Prosciutto, Sage and Fontina Pork Packets
Involtini are delicious little bundles of meat served in Trattoria all over Italy. Preparations usually begin with beef, veal or fish that are stuffed with sautéed vegetables, cured meats or cheeses.
These Prosciutto, Sage and Fontina Pork Packets are my variation on Involtini Saltimbocca. Instead of the traditional veal scaloppini used in the dish, I've substituted very thin pork chops. Where I reside in the American South, the thin chops are labeled "breakfast" chops at most supermarkets, but you can ask your butcher to prepare them for you from a boneless pork loin if there are no thin chops in the meat case. They should be cut about one-third of an inch thick.
Most involtini call for wrapping the meat or fish around the filling and securing the bundles with wooden picks. Here, thin slices of prosciutto, fresh sage leaves and a slice of Fontina cheese are layered over one thin pork chop and another pork chop is placed over the top. Leaving some of the bottom chop exposed allows the top chop to adhere without wooden picks.
While the fillings suggested here are classic, variations abound. Slivers of sundried tomato and fresh basil leaves can be used in place of the sage, and fresh mozzarella can stand in for the Fontina for a version that would be delicious served in the summer.
12 thin, boneless pork chops (about 1/3-inch thick)
3 thin slices prosciutto, cut in half
6 thin slices Fontina cheese
12 fresh sage leaves
1 cup flour
Sea salt and freshly ground black pepper
2 eggs
1 1/2 cups seasoned dry bread crumbs
1/2 cup shredded Parmesan cheese
2 tablespoons butter, divided
2 tablespoons olive oil, divided
Preheat oven to 350 degrees F. Pound two chops into an even thickness between sheets of plastic wrap, being carefully not to tear the chops. Place one of the slices of prosciutto in the center of one of the chops. Place two of the sage leaves over the prosciutto and top with the slice of cheese. Top with the remaining pounded chop and press around the edges to seal the "packet." Set aside and repeat with remaining chops.
When all packets are prepared, spread the flour on a plate and season with salt and pepper. Crack the eggs into a pie plate or other flat, shallow vessel and beat well. Place the breadcrumbs and parmesan on another plate and stir to combine. Dredge both sides of one of the packets in the flour, shaking off any excess. Dip into the egg, coating well on each side and allowing excess egg to drip back into the pie plate. Dredge both sides of the packet in the breadcrumb-Parmesan mixture and place on a plate. Continue until all packets are coated. (May be made ahead up to this point, covered tightly with plastic wrap and refrigerated.)
Heat 1 tablespoon of the butter and 1 tablespoon of the olive oil in a large skillet over medium-high heat. When hot, add three of the packets and brown well on both sides, about 2 minutes per side. Remove to a baking dish or baking sheet and set aside. Repeat with remaining butter, oil and packets. When all packets are done, place baking sheet in the oven and bake for 10 to 15 minutes, until packets are cooked through. (Internal temperature will read 165 degrees when the packets are done.)
Makes 6 servings.

Print This Page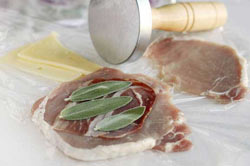 Related Menus
That's Amore Valentine's Dinner
Related Recipe Categories
Main Dishes