Quick Beef and Broccoli
Although I'm relatively unfamiliar with the customs of the 15-day Chinese New Year celebration, it's a great opportunity to introduce Chinese cuisine at the dinner table. Chinese cooking is quick at the stove, but long at the cutting board. My husband, Bond, is an avid Chinese cook. When we were first married, he would spend hours at the cutting board preparing meats and vegetables for stir-fry dinners.

With the help of supermarket convenience products, creating a great stir-fry need not be labor-intensive any more. This recipe for Quick Beef and Broccoli relies on stir-fry beef, which is prepared by the meat department, and bagged pre-cut and washed broccoli florets available in the produce section. Enjoy your salute to the Chinese New Year by adding a side of hot white rice, a fresh fruit salad, hot tea and fortune cookies.


2 teaspoons cornstarch
1/2 cup orange juice
1/4 cup regular or low sodium soy sauce
2 cups hot cooked white rice
1 pound stir-fry beef*
2 teaspoons vegetable oil, total
1 pound fresh broccoli florets (about 4 cups)
1/2 cup sliced green onions
1 teaspoon minced garlic
1/4 teaspoon red pepper flakes, optional

Combine cornstarch, orange juice and soy sauce in a small bowl and set aside.
Place a large wok or skillet over medium-high heat until hot. Coat with 1 teaspoon oil and add the beef. Stir-fry 2 minutes. Remove beef from wok and set aside. Add remaining teaspoon oil and broccoli to skillet and stir-fry 3 minutes. Add green onions, garlic and red pepper flakes, if desired, and stir-fry 1 minute more. Add cornstarch mixture, bring to a boil and stir for about 1 minute, until thick and bubbly. Serve with the rice.
Makes 4 servings.

*Note: 1 pound lean round steak, sliced into thin strips, can be substituted for the stir-fry beef.

Print This Page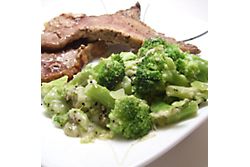 Related Recipe Categories
All
NOT TVL
Main Dishes
The Viking Life
Featured Recipes