Shrimp Evil Jungle Prince
by
For years, it was a special treat to enjoy a Thai meal when we traveled to larger cities around the country. Now, there's a fantastic Thai restaurant up the street from my house, which we patronize often. Although the tastes of Thailand are now close to home, I still keep my eyes open for special Thai dining spots when we travel, and had a great meal at Keo's in Honolulu.
I ordered a house special, Evil Jungle Prince with shrimp, then came home and tried to recreate the recipe. The dish is loaded with vegetables – red bell pepper slices, green beans, shitake mushrooms, water chestnuts, bamboo shoots and baby corn, and is served on a bed of shredded cabbage. The dish gets its "evil" nature from a hefty dose of hot red pepper flakes, which you can adjust to your palate. If you live near an Asian market, you can substitute small, hot dried Thai red chiles for the pepper flakes.
Your supermarket can help you save a bit of time on preparation. First, ask your seafood counter to peel and devein the shrimp for you. Second, look for bagged "angel hair" shredded cabbage in the produce department. It makes a perfect bed for the finished dish.
2 tablespoons canola or vegetable oil
1 teaspoon hot red pepper flakes*, or less to taste
1tablespoon lemon zest, about 1/2 lemon
1/2 cup red bell pepper, julienned
1 cup green beans, tipped and tailed*
1 cup coconut milk, or more, to taste
1/4 cup water chestnuts, sliced
1/4 cup bamboo shoots, sliced
1/2 cup miniature corn
1 1/2 pounds large shrimp, peeled and deveined
1/4 teaspoon salt
2 tablespoons fish sauce, optional
10 to 15 basil leaves, thinly sliced
1 cup chopped cabbage
Heat oil over medium-high heat in a large sauté pan or wok, add hot pepper flakes and lemon zest and sauté until fragrant, about 1 minute. Add red bell pepper strips, green beans and mushrooms and sauté 2 to 3 minutes. Stir in coconut milk and cook for 2 minutes. Add remaining vegetables and shrimp and cook until the shrimp just turn pink, for about 3 to 5 minutes. Stir in salt, fish sauce and basil leaves. Serve on a bed of shredded cabbage.
Makes 4 servings.
*3 small hot dried chiles can be substituted for the dried hot red pepper flakes.

Print This Page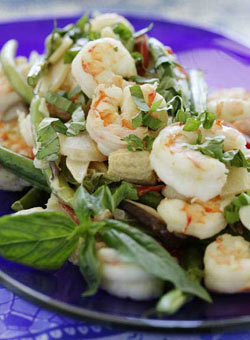 Related Menus
A Taste for Thai
Related Recipe Categories
Main Dishes

| | |
| --- | --- |
| | Karin Calloway is a working mom living in Augusta, Ga., with multiple freelance jobs and a ton of dirty dishes. |