Almond-Glazed Sugar Cookies
by
My friends and neighbors often refer to me as their "chef next door," since I'm the go-to girl for all of their culinary questions. While I enjoy teaching them a new cooking method or sharing a no-fail recipe, I've learned a thing of two from them as well. In fact, my neighbor, Barbara Mysona, passed along her holiday sugar cookie recipe years ago and it soon became my favorite.
Barbara's dough doesn't use butter, as many traditional sugar cookie recipes do. She uses margarine, making the dough particularly easy to roll out. The dough needs to chill for at least 30 minutes before rolling, but rolls out easily on a lightly floured work surface. The dough also freezes beautifully, or can be prepared a day before rolling and baking. Once the cookies are cut, any scraps of dough can be rolled again with the next batch.
A sweet almond glaze takes Barbara's sugar cookies over the top, and glazing the cookies is much easier than icing them. I simply prepare the glaze in a shallow baking dish or pie plate and dip each cookie in the glaze. You can add your favorite food colorings to the glaze, using blue for Chanukah cookies or red and green for Christmas. If you'd like to add decorative sprinkles, do so just after dipping the cookies, before the glaze sets.
Cookies
1 cup sugar
1 cup margarine
3 tablespoons cream or milk
1 teaspoon vanilla
1 large egg
3 cups flour
1 1/2 teaspoons baking powder
1/2 teaspoon salt
Preheat oven on convection bake to 350 degrees F. (If using a standard oven, preheat to 375 degrees F.) Cream sugar and margarine together in the bowl of a stand mixer or in a large bowl with a hand mixer. Add cream or milk, vanilla and egg. Add remaining ingredients and mix until well blended. Roll out as desired and bake on un-greased cookie sheets for 8 minutes. (Baking time will be about 10 minutes in a standard oven.) Cool completely before glazing.
Glaze
3 cup confectioners' sugar
3 tablespoons light corn syrup
6 tablespoons water
1 teaspoon almond extract
Food coloring
Stir confectioners' sugar, corn syrup, water and almond extract together in a bowl. Divide among pie plates or shallow baking dishes and add food coloring as desired. Stir well. Dip the top of each cooled cookie into the glaze and place, glaze-side up on racks. Allow the glaze to dry completely. Store cookies in an airtight container.
Makes approximately 3 dozen cookies.

Print This Page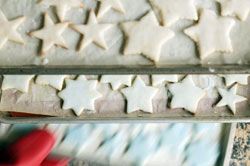 Related Menus
Cookies and Cocoa
Related Recipe Categories
Desserts

| | |
| --- | --- |
| | Karin Calloway is a working mom living in Augusta, Ga., with multiple freelance jobs and a ton of dirty dishes. |