Blueberry-Lemon Pound Cake
by
I love using cake mixes to come up with simple desserts that taste like they're baked from scratch. And, over the years, I've come up with some tricks to make the best of convenient boxed cake mixes. My recipe for Blueberry-Lemon Pound Cake is the perfect example of the best of cake mix cooking, and is wonderful served as a simple, home-style dessert or an addition to a weekend brunch.

I begin with a boxed lemon cake mix, add the usual oil and eggs called for on the box, and substitute softened cream cheese for the liquid. The cream cheese makes the texture of the cake as close as I've come to a classic pound cake while using a mix. Since "doctored up" cake mixes are usually lacking in flavor, I add a teaspoon of vanilla and half a teaspoon of lemon extract.


1 box lemon cake mix
8 ounces cream cheese, softened
1 cup vegetable oil
3 eggs
1 teaspoon vanilla extract
1/2 teaspoon lemon extract
1 cup frozen blueberries
1/2 cup fresh lemon juice
2 cups confectioners sugar
Additional confectioners sugar, for garnish

Preheat oven to 350 degrees F. Butter and flour a bundt pan, shaking out the excess, and set aside.
Combine cake mix, cream cheese, oil and eggs in a large bowl and beat with an electric mixer until fluffy, approximately 3 minutes. Stir in vanilla and lemon extracts and fold in the blueberries. Pour into the prepared pan and bake 1 hour, until a toothpick inserted in the center comes out clean.

Place the cake, still in the pan, on a cooling rack. Punch holes in the cake using a metal or bamboo skewer. Combine the lemon juice and confectioners sugar and pour over the top. Cool cake completely in the pan. Invert cake onto a plate and dust with powdered sugar.

Makes 10 to 16 servings.

Print This Page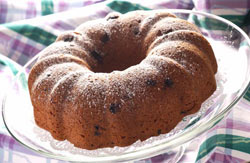 Related Recipe Categories
Desserts

| | |
| --- | --- |
| | Karin Calloway is a working mom living in Augusta, Ga., with multiple freelance jobs and a ton of dirty dishes. |