Brownie Cookies
by
Before I had children I had many lofty notions. I thought I would never quiet them in the supermarket by opening a box of cereal or bag of cookies. I wouldn't take them anywhere without their shoes on. And, they would come home from school each day to fresh baked cookies.

Needless to say, the reality of raising children does away with that sort of idealism. Sometimes you do what you have to do to get through the daily tasks of motherhood. And, although I love baking cookies, who has time?

Then I discovered this recipe for quick and easy Brownie Cookies. Basic brownie mix is combined with oil and eggs. Chocolate morsels, nuts or M & M's are added; and, I'm a hero when my children come home from school.

The recipe also works with packaged cake mixes. Combine lemon or chocolate cake mix with white chocolate morsels or yellow cake mix with M & M's. Spice cake mix becomes spice cookies; and, carrot cake mix cookies are wonderful spread with prepared cream cheese frosting.

I bake three sheets of cookies at one time using the convection cook setting on my range. To save time, I use a small cookie scoop to dollop the dough onto cookie sheets which I line with parchment paper. The parchment paper keeps the cookies from sticking, and saves a lot of time scrubbing the pans. Serve your homemade cookies with milk for an after school snack or for a special treat.
1 19.5 to 21.2-ounce package fudge brownie mix
1/2 cup vegetable oil
2 large eggs
1 cup chocolate morsels

Preheat oven to 325 degrees F on convection cook setting.
In a large bowl, combine the brownie mix, vegetable oil and eggs. Stir well. Add the chocolate morsels.

Drop dough by rounded teaspoonfuls two inches apart on parchment lined baking sheets. Bake cookies for 8 minutes, until center is still soft. Cool on pan 2 minutes. Remove to wire racks to cool completely.

Makes 4 dozen cookies.

Print This Page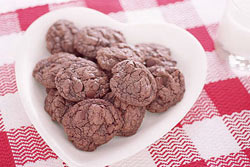 Related Recipe Categories
Desserts

| | |
| --- | --- |
| | Karin Calloway is a working mom living in Augusta, Ga., with multiple freelance jobs and a ton of dirty dishes. |