Butter Pecan Blondies
by
Holiday baking need not be a chore. With the help of a cake mix and a bag of caramels, I've come up with a luscious holiday treat that can be whipped up in a snap.

A buttery white brownie layered with melted caramel, chopped pecans and white chocolate morsels is a most appealing combination. Here, the base is a French vanilla cake mix combined with melted butter and evaporated milk. Half of the mixture is spread in a glass baking dish and baked for 8 minutes, while the other half is reserved for a crumbly topping.

The cake mix base is topped with some white chocolate morsels and pecan pieces, and then it gets a gooey caramel layer.

The caramel component is a bag of wrapped caramels, unwrapped and melted. It'll take you about 15 minutes to unwrap all of the caramels, and this is the most labor-intensive step in this simple-to-prepare dessert. The simmer setting on my Viking gas range allows me to melt the caramels without using a double boiler.

Once the caramel is layered atop the chips and nuts, the remaining cake mixture is crumbled over the top and the Blondies are popped into the oven for their final bake.

Cool the Blondies completely before cutting, and use a serrated knife for best results. These delicious dessert squares will be a welcome addition to a platter full of holiday sweets, or as a gift for neighbors and friends.


1 14-ounce package caramels, unwrapped
1 5-ounce can evaporated milk, divided
1 18.25-ounce French Vanilla cake mix*
1/2 cup butter, melted
1 cup white chocolate morsels
1 cup chopped pecans

Preheat oven 350 degrees F. Place caramels and 1/3 cup of the evaporated milk in a saucepan. Heat over simmer, stirring occasionally, until caramels are melted, about 10 minutes.

Combine cake mix, melted butter and remaining 1/3 cup evaporated milk in a large bowl. Press half of the cake mixture in the bottom of a 9-by-13-inch glass baking dish. Bake for 8 minutes. Remove from oven and sprinkle with the white chocolate morsels and the pecans. Drizzle with the melted caramel, and sprinkle the remaining cake mixture over the top. Return to oven and bake 18 to 20 minutes. Remove from oven and cool completely before cutting into squares.

Makes 24 small squares.

Print This Page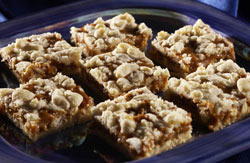 Related Recipe Categories
Desserts

| | |
| --- | --- |
| | Karin Calloway is a working mom living in Augusta, Ga., with multiple freelance jobs and a ton of dirty dishes. |