Canadian Butter Tarts
by
Visiting Niagara Falls for the first time is awe-inspiring for sure. And, as a child, crossing from New York into Canada (my first foreign country) was a thrill. But perhaps the best memory from our family trip was the Canadian Butter Tarts we sampled at a roadside restaurant.
A buttery pastry with sugary sweet custard studded with raisins and walnuts. We definitely "couldn't eat just one!" When my grocer's freezer section carries packages of individual pastry shells, I head home to make the Butter Tarts. The recipe is a snap to prepare, and serving individual tarts for dessert makes them seem ever so special.
The custard is a combination of brown sugar, corn syrup, softened butter and eggs. Traditional recipes stop there, but I like to add a bit of vanilla for extra flavor. Choose regular or golden raisins, and pecans could substitute for the walnuts if that's what you have on hand.
1/4 cup (1/2 stick) butter, softened
1/2 cup brown sugar
1/2 cup light corn syrup
2 eggs
1 teaspoon vanilla
1/2 cup raisins
1/2 cup chopped walnuts
1 8-ounce box frozen pastry shells (box should contain 8 shells)
Preheat oven to 325 degrees F. Cream butter and brown sugar in a mixing bowl. Add corn syrup and eggs, stirring until well combined. Stir in vanilla, raisins and walnuts.
Place pastry shells on a parchment paper-lined baking sheet. Divide custard among the 8 pastry shells. Bake for 35 minutes, until custard is set in the middle of each tart.
Makes 8 tarts.

Print This Page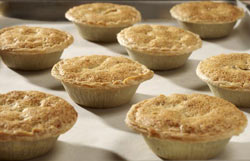 Related Recipe Categories
Desserts

| | |
| --- | --- |
| | Karin Calloway is a working mom living in Augusta, Ga., with multiple freelance jobs and a ton of dirty dishes. |