Coconut Macaroon Squares
by
Gooey coconut macaroons are one of my favorite indulgences. My Coconut Macaroon Squares give you the taste of the individually prepared macaroons, without all the fuss.

A crust of butter, flour and powdered sugar is baked in a square glass baking dish. Then, a yummy coconut custard made of sweetened coconut, sugar, flour, salt, baking powder, eggs and vanilla, is poured over top.

The bars can be served as they are, or they can be drizzled with melted semisweet chocolate for even more lusciousness. Either way, they'll be a welcome addition to your holiday baking.

Coconut Macaroon Squares


1/2 cup butter, softened
1 cup all-purpose flour
1/4 cup powdered sugar
1 cup sweetened coconut
1 cup granulated sugar
2 tablespoons flour
1/2 teaspoon salt
1 teaspoon baking powder
2 eggs
1 teaspoon vanilla


Preheat oven to 350 degrees. Combine butter, flour and powdered sugar in a medium bowl. Pat into the bottom of a 9-by-9-inch glass baking dish. Bake for 20 minutes, until lightly browned. Remove from oven and set aside.

Combine remaining ingredients in a medium bowl. Mix well and pour over baked crust. Bake for 20 to 25 minutes. Cool before cutting into squares.

Makes 16 small squares.

Print This Page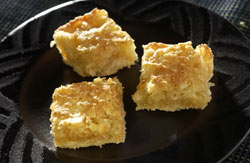 Related Recipe Categories
Desserts

| | |
| --- | --- |
| | Karin Calloway is a working mom living in Augusta, Ga., with multiple freelance jobs and a ton of dirty dishes. |