Dolce de Leche Freezes
by
When planning a dinner party, it's easy to get carried away. Individual pick-up hors d'oeuvres, a special salad and a labor-intensive entrée with sides can overwhelm even the most avid entertainer and cook. So, when asked for advice on entertaining, I always recommend focusing on one or two spectacular, labor-intensive dishes, then rounding out the menu with simpler dishes.
Dolce de Leche Freezes are an easy, elegant dessert to follow your most special of meals. Though the recipe calls for just four ingredients and a simple blender sauce, your guests will be impressed by the Freezes' rich flavor and beautiful presentation. And, these frozen desserts must be prepared ahead, taking some of the heat off of the cook the day of the big event.
The pretty plate presentation is made simple by freezing the caramel cream in six 9-ounce wax-coated paper drinking cups. The desserts also can be frozen in 8-ounce ramekins. Just drizzle some of the sauce over each Freeze, rather than drizzling it onto a dinner plate.
24 caramels, unwrapped
1 cup heavy cream
1 cup sour cream
1 teaspoon vanilla extract
1 10-ounce package frozen strawberries in light syrup, defrosted in the refrigerator overnight
2 tablespoons Chambord liqueur, optional
Fresh raspberries, for garnish
Place caramels and cream in a saucepan over low heat. Stir until caramels are melted. Set aside to cool slightly. Fold in sour cream and vanilla. Divide caramel crème among 6 9-ounce wax-coated paper drinking cups and freeze overnight.
Place defrosted strawberries with syrup and Chambord, if desired, in a blender and puree. Store in a plastic container with a tight fitting lid and refrigerate.
To serve, tear paper cups away from each Freeze and place on a dinner plate. Drizzle the plate with some of the sauce and garnish with some fresh raspberries.
Makes 6 servings.

Print This Page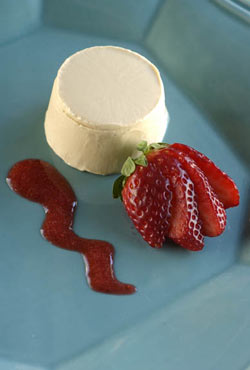 Related Recipe Categories
Desserts

| | |
| --- | --- |
| | Karin Calloway is a working mom living in Augusta, Ga., with multiple freelance jobs and a ton of dirty dishes. |