Frozen Peanut Butter Pie
by
Peanuts show up on Southern menus in a bevy of ways. Roasted and salted, they're offered up as "a little something" when friends and neighbors drop by for an unexpected visit, they're tossed into broccoli salad (a Southern potluck classic with raisins, bacon and a sweet mayonnaise-based dressing) and they're made into desserts of all kinds.
One favorite is Peanut Butter Pie, and with the help of your Viking stand mixer, this Southern classic is a snap to prepare. I like to use real whipping cream in the dessert, but a small container of frozen whipped topping can be folded into the pie in its place.
Garnishing this simple pie with chocolate sauce and melted peanut butter makes it extra special. Melt the peanut butter in a small bowl in the microwave for 45 seconds to one minute for the perfect drizzling consistency.
1 cup whipping cream, whipped
8 ounces cream cheese, softened
2 cups confectioners' sugar
1/2 cup creamy peanut butter
1 teaspoon vanilla extract
1 prepared graham cracker pie crust
2 tablespoons chocolate sauce, for garnish
2 tablespoons creamy peanut butter, for garnish
Beat the whipping cream to stiff peaks in the bowl of a stand mixer fitted with the whip attachment. Scrape into a bowl and set aside. Place cream cheese and confectioners' sugar in the bowl and beat using the "V" blade, until smooth. Add peanut butter and vanilla extract and beat until smooth. Fold in whipped cream and spread in the prepared pie crust. Heat chocolate sauce and peanut butter in separate microwave-safe bowls for 45 seconds to 1 minute, until peanut butter can be drizzled. Drizzle chocolate sauce and peanut butter over the pie. Cover and freeze for 4 hours or overnight.
Makes 8 servings.

Print This Page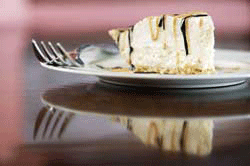 Related Menus
Southern Traditions
Related Recipe Categories
Desserts

| | |
| --- | --- |
| | Karin Calloway is a working mom living in Augusta, Ga., with multiple freelance jobs and a ton of dirty dishes. |