Fudge Pound Cake
by
Having a few good, quick desserts in your repertoire can be a coupe for busy cooks. That's why I always have a few hidden ingredients – cake and brownie mixes – stored away in my pantry. With a packaged mix as a base, you can whip up something that tastes practically "made-from-scratch," but with much less measuring!

Fudge Pound Cake is always a hit, and this recipe begins with a Devil's Food cake mix. The fudge flavor is heightened with the addition of chocolate syrup, and the cake is denser than your average "cake-mix-cake" thanks to a hunk of softened cream cheese.

When using cake mixes as a base for "better than the box" cakes, flavorings and extracts play an important role. Without the addition of vanilla in this recipe, the flavor of the cake is a bit flat. Kahlua, or any other coffee liqueur, heightens the chocolate flavor, but feel free to leave it out if you don't have any on hand.

Prepared fudge frosting makes a quick glaze when heated over simmer, or melted in the microwave. You'll only need about half a tub to glaze the cake, so reserve the extra for another use. One of my favorite uses for leftover chocolate frosting stems from my childhood – my Mother used to spread extra chocolate frosting on graham crackers for a special after school snack.


1 box Devil's Food cake mix
8 ounces cream cheese, softened
1 cup vegetable oil
3 eggs
1/2 cup chocolate syrup
1 teaspoon vanilla extract
1 tablespoon Kahlua or other coffee liqueur, optional
1 16-ounce tub prepared fudge frosting

Preheat oven to 350 degrees F. Butter and flour a 12-cup bundt or tube pan, shaking out the excess, and set aside.
Combine cake mix, cream cheese, oil, eggs and chocolate syrup in a large bowl and beat with an electric mixer until fluffy, approximately 3 minutes. Stir in vanilla and coffee liqueur, if desired, and pour into the prepared pan. Bake for 1 hour, until a toothpick inserted in the center comes out clean. Cool in the pan for 10 minutes, and then turn out onto a cooling rack.

Heat one cup of the prepared frosting in a small saucepan over simmer until it melts into a glossy glaze, about 2 minutes. Reserve the remaining frosting for another use. Drizzle glaze over cake.

Makes 10 to 16 servings.

Print This Page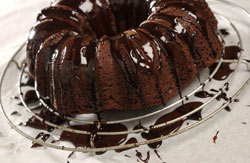 Related Recipe Categories
Desserts

| | |
| --- | --- |
| | Karin Calloway is a working mom living in Augusta, Ga., with multiple freelance jobs and a ton of dirty dishes. |