Lemon Curd Cakes with Strawberry Sauce
by
These little Lemon Curd Cakes with Strawberry Sauce are inspired by a luscious dessert I sampled at a fine Atlanta restaurant quite a few years back. After visiting the restaurant, I made multiple attempts to recreate the cakes, which bake up with a light sponge cake on the top and a smooth lemon curd on the bottom.

The recipe is based on an old fashioned lemon pudding cake recipe I found in which the ingredients were baked in a round casserole dish. Here, the batter is poured into rectangular or round muffin tins. I found the rectangular muffin tins at my corner supermarket and love the look of these small rectangular cakes.

Follow the recipe carefully and use only whole milk in the recipe to ensure that the layers form, and add a drizzle of my easy strawberry sauce and a fanned fresh strawberry for restaurant-style presentation.


6 tablespoons (3/4 stick) butter (at room temperature) plus additional butter for greasing muffin tins
3/4 cup plus 4 tablespoons sugar
1 tablespoon grated lemon rind
3 large eggs, separated
1/3 cup all purpose flour
1/3 cup freshly squeezed lemon juice
1 1/2 cups whole milk
Powdered sugar
1 6-ounce package frozen strawberries in syrup, defrosted in the refrigerator
Large strawberries, washed, dried and fanned
Preheat oven to 350 degrees F. Butter the cups of a round or rectangular muffin tin. 

Place 3/4 cup plus 2 tablespoons of sugar, 6 tablespoons butter and lemon peel in bowl of a food processor fitted with a metal blade and pulse until well blended. Add egg yolks one at a time, beating well after each addition. Add flour and pulse, then add lemon juice and pulse several times. Gradually mix in milk. (Mixture will be thin and may look curdled.)

Beat the egg whites in the bowl of an electric stand mixer until soft peaks form. Add remaining 2 tablespoons sugar and beat until stiff but not dry. Fold yolk mixture into whites in 3 additions.

Divide batter among prepared muffin tins and bake until puffed and firm to the touch, about 25 minutes. Set aside to cool. 

When ready to serve, puree the strawberries with their juices in a blender or food processor and drizzle on 6 dinner plates. Invert the cakes onto a baking sheet and place one cake atop the sauce on each of the plates. Garnish with the fanned strawberries.

Makes 6-8 cakes.

Print This Page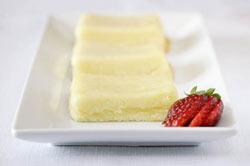 Related Menus
Spring Chicken
Related Recipe Categories
Desserts

| | |
| --- | --- |
| | Karin Calloway is a working mom living in Augusta, Ga., with multiple freelance jobs and a ton of dirty dishes. |