Pear Upside Down Coffee Cake
by
Coffee cake is one of the most versatile of all sweets. Whether eaten for breakfast or as a dessert, it's "not-too-sweet" flavor is a favorite. Several summers ago I spent over an hour preparing an upside down nectarine chiffon cake from the Baking with Julia cookbook by Julia Child. The recipe was by pastry chef Mary Bergin. It was a fantastic, spruced-up coffee cake.

Since I don't often have an hour to spend making coffee cake, I sought alternatives to the lengthy preparation. Packaged cake mix came to the rescue. By substituting a pound cake mix for the elaborate chiffon cake base in the original recipe, I can have a special treat in the oven in about 30 minutes. Substituting sour cream for the liquid called for on the package, and adding dashes of almond and vanilla extract gives the cake a homemade flavor.

Pears are in season now, so I've prepared the coffee cake with fresh, ripe Bosc pears. Feel free to substitute peaches, nectarines or even apples when they're in season. To cut preparation time further, use a cinnamon streusel swirl cake mix, substituting the packaged streusel for the homemade. Reserve the icing that comes with the mix in the refrigerator for another use.

Serve your coffee cake as part of a festive holiday brunch. Or, as a comforting autumn dessert.


1/2 cup (1 stick) butter, divided
1 1/4 cups brown sugar, divided
2 to 3 ripe Bosc pears, peeled, cored and sliced
1 16-ounce pound cake mix
3/4 cup sour cream
2 eggs
1 teaspoon almond extract
1 teaspoon vanilla extract
1/3 cup slivered almonds, toasted
1/3 cup flour
1 teaspoon cinnamon
1 teaspoon ground ginger

Preheat oven to 350 degrees F. Cube 1/4 cup of the butter (1/2 stick) and place in the bottom of a 10-inch springform pan, the bottom of which has been wrapped in foil. Place the pan in the oven and allow butter to melt. When butter is melted, sprinkle 1 cup of the brown sugar over the top and pat into bottom of pan. Place pears in a decorative design on top of brown sugar. Set aside.
In a mixing bowl combine pound cake mix, sour cream and eggs. Beat on low for 30 seconds to blend. Increase speed to medium and beat for 3 minutes. Beat on high for 4 additional minutes. Fold in almond and vanilla extracts and set aside while you prepare the streusel.

Combine toasted almonds, flour, remaining 1/4 cup brown sugar, cinnamon, ginger and remaining 1/2 stick of butter in the bowl of a food processor. Pulse until butter is incorporated and mixture is crumbly. Do not over process.

Spread 1/2 of batter over pears. Sprinkle streusel mixture evenly over top of batter. Dollop remaining batter on top of streusel, then spread lightly with a spatula.

Place pan on a baking sheet and place in oven. Bake for 50 minutes to 1 hour, until a toothpick inserted in the center comes out clean. Cool on a rack for 25 minutes before removing sides of pan and inverting onto a cake plate. Carefully remove pan bottom from cake. Serve immediately, or refrigerate, covered for several days.
Makes 1 cake.

Print This Page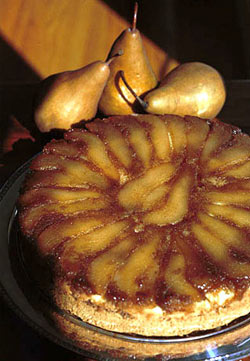 Related Recipe Categories
Desserts

| | |
| --- | --- |
| | Karin Calloway is a working mom living in Augusta, Ga., with multiple freelance jobs and a ton of dirty dishes. |