American Flag Cake with Mascarpone Whipped Frosting
Frosting
1 1/4 cups mascarpone cheese
1 1/4 cups heavy cream, chilled well
5 tablespoons confectioners' sugar
1 1/4 teaspoons vanilla extract
1 1/4 teaspoons almond extract
In bowl of an electric stand mixer fitted with the whisk attachment, whisk the mascarpone on medium speed until soft. Add the cream and beat until it begins to thicken. Add the sugar, vanilla and almond extract; continue beating until the cream forms soft to medium peaks. Cover and refrigerate until needed.
Cake
2 cups all-purpose flour
2 teaspoons baking powder
1/4 teaspoon salt
1 1/2 sticks unsalted butter (12 tablespoons or 6 ounces), brought to room temperature
1 1/2 cups granulated sugar
6 large egg whites, brought to room temperature
3/4 cup whole milk, brought to room temperature
1 teaspoon vanilla extract
2 teaspoons almond extract
1/2 pint fresh blueberries
1 pint fresh strawberries or raspberries
Preheat oven to 350 degrees F. Place oven rack in the middle position. Butter a 9 x 13 x 2-inch baking pan; line bottom with parchment paper to help prevent sticking.
In a small mixing bowl, sift together flour, baking powder and salt; set aside until needed. In an electric stand mixer fitted with the paddle attachment, beat butter and sugar on medium-high speed until light and fluffy, about 5 minutes; this is called "creaming."
In a large mixing bowl, whisk together egg whites, milk, vanilla and almond extracts. Reduce mixer speed to low; add 1/3 of flour mixture to creamed butter. Increase speed to medium, and add half of milk mixture. Repeat process until all of flour and milk mixture have been added in, ending with the last addition of the flour mixture. (Throughout the mixing process, turn off the mixer and scrape down the sides of the bowl with a rubber spatula as needed.)
Pour batter into prepared pan; smooth top of cake with a large, metal offset spatula to level batter. Tap the pan on the counter one or two times to remove any air bubbles. Bake until a cake tester or toothpick inserted into the center comes out clean, about 25 to 30 minutes.
Remove cake from oven, and transfer to a cooling rack. Cool in pan for 5 minutes, then turn out onto a rack. Remove parchment paper and cool completely. Using a large, metal offset spatula, spread about 2/3 of frosting over top and sides of cake. Fill a pastry bag fitted with a large star tip with the remaining frosting.
Arrange a small square of blueberries in top left-hand corner of cake, about 7 to 8 blueberries down and 9 to 10 blueberries across. Pipe small rosettes on top of blueberries to represent stars. Pipe large horizontal stripes across cake (one on each of the long sides of the cake and three in the center), all evenly spaced apart. Do not pipe stripes over blueberries. Fill in spaces between stripes with strawberries, sliced or whole, or raspberries. Serve immediately, or place in refrigerator until ready to serve.
Makes one 13 x 9-inch cake

Print This Page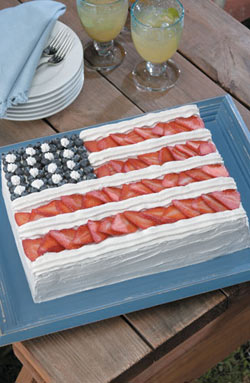 Related Recipe Categories
Desserts
Viking Cooking School Recipes