Grilled Salmon Skewers with Orange Miso Dipping Sauce
Orange Miso Dipping Sauce
1/3 cup freshly squeezed orange juice (juice of 1 medium orange)
1/4 cup granulated sugar
1/4 cup red miso
1/4 cup sake
1/4 teaspoon orange oil
1 teaspoon finely grated fresh ginger
Combine orange juice, sugar, miso, and sake in a small, heavy-bottomed sauté pan; cook, uncovered, over medium-high heat until sugar has dissolved and the sauce has reduced by half, about 10 minutes. Remove from heat, then stir in the orange oil and ginger. Let stand for at least 30 minutes before serving to allow the flavors to blend. The sauce should be the consistency of gravy.
Salmon
8 ounces fresh salmon fillet, cut into 1-inch cubes
2 teaspoons toasted sesame oil
1 teaspoon orange zest
1 1/2 tablespoons Shichimi or Nanami Togarashi*
1/2 teaspoon salt, or to taste
1 tablespoon neutral-flavored oil (grapeseed or canola), for oiling grill
4 green onions, green tops only, cut into 1/16-inch thick slices, for garnish
12 (4-inch) bamboo skewers, soaked for 30 minutes to 1 hour in water
Gently toss salmon cubes with the sesame oil, orange zest, Shichimi Togarashi, and salt to coat. Cover and marinate, refrigerated, for 10 to 15 minutes. Thread one marinated salmon cube onto each presoaked skewer.
Preheat grill to medium-high heat. Clean grill grates with a stiff brush, then oil liberally to prevent fish from sticking. (Note: To use a grill pan, preheat the pan to medium-high heat; add the oil and heat through.)
Grill salmon skewers on one side for 1 minute; turn skewers over and cook until salmon is just cooked through, about 1 minute more. The salmon will continue to cook a bit more after removing from the grill. Garnish the skewers with sliced green onions and serve hot or at room temperature with Orange-Miso Dipping Sauce.
*
Note
: Shichimi Togarashi and Nanami Togarashi may be found in Asian markets or in the international section of many grocery stores. If unavailable in your area, use this recipe.
Make It Ahead
: Prepare the dipping sauce up to one day in advance; cool completely, then store, tightly covered, in the refrigerator. Remove from refrigerator 30 minutes to 1 hour prior to serving.
Serves 4 as an appetizer

Print This Page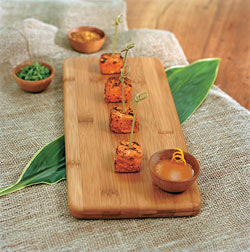 Related Recipe Categories
Appetizers
Viking Cooking School Recipes