Tuscan Grilled Vegetables
by
1 medium red bell pepper, stemmed, seeded, and cut lengthwise into 6 pieces
1 medium yellow bell pepper, stemmed, seeded, and cut lengthwise into 6 pieces
1 Belgian endive, trimmed and quartered lengthwise
1/2 pound portobello mushrooms, stems and gills removed
1 small (Japanese) eggplant, stem end removed, quartered lengthwise
1 small zucchini, stem end removed, quartered lengthwise
1/2 pound asparagus, cleaned, tough ends trimmed
1 small ripe red tomato, cored and cut into 1-inch wedges
1/3 cup rosemary olive oil
1 to 2 tablespoons balsamic vinegar
course sea salt or kosher salt, to taste
freshly ground black pepper, to taste
fresh rosemary, for garnish
2 ounces shaved Parmesan cheese, for garnish
Preheat grill to high. Clean grates with a stiff brush, then oil liberally to prevent sticking. (Note: To use a grill pan, preheat a lightly oiled grill pan to medium-high heat).
Brush vegetables lightly with rosemary oil, then season with salt and pepper. Grill until lightly charred on the outside and just tender in the center, between 3 and 6 minutes per side, depending upon the vegetable.
Remove from grill and attractively arrange on a large platter. If the portobellos are large, cut them into fourths or sixths. Just before serving, drizzle balsamic over the vegetables and garnish with fresh rosemary sprigs and shaved Parmesan. Serve warm or room temperature.
Grilling Tip: Place vegetables in a grilling basket to make them easier to turn.
*Note: If the eggplant and zucchini are large, cut them into sixths or eighths; wedges should be approximately 1-inch wide.
Serves 4 to 6

Print This Page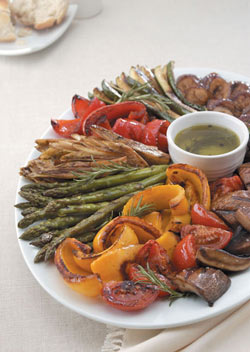 Related Menus
Grilling Workshop
Related Recipe Categories
Vegetables and Sides
Viking Cooking School Recipes

| | |
| --- | --- |
| | Riki Senn creates, writes and edits curriculum for the Viking Cooking School locations throughout the United States. |