Cherry Walnut Scones
2 cups all-purpose flour   
1 teaspoon cream of tartar  
1 teaspoon baking soda 
1/2 teaspoon salt   
2 Tablespoons sugar  
zest of one lemon, finely grated   
2 ounces butter, cold, cut into 1/4-inch cubes 
3/4 cup cherries, fresh, pitted and halved  
1/2 cup walnuts, toasted, coarsely chopped 
7 ounces heavy whipping cream 
2 ounces whole milk   
2 ounces sugar, coarse   
Preheat oven to 400°F (375°F for convection ovens).
Combine the dry ingredients and lemon zest in a 4-quart mixing bowl. Cut in the cold, cubed butter to a rough meal consistency. Add the cherries and walnuts and toss to blend.
Make a well in the center of the bowl and pour in the heavy cream. Using a rubber spatula, fold the ingredients together to form a shaggy mass. Gently compact the dough into a ball, but do not over-mix.
Transfer the ball to a clean work surface and flatten it into an 8-inch disk, approximately 1-inch thick. Cut the dough into 8 equal wedges, and carefully transfer them to a parchment-lined baking pan, evenly spaced.
Just before baking, brush the scones lightly with milk and sprinkle with coarse sugar. Bake the scones for 15 minutes or until lightly browned at the edges. Transfer the scones to a rack and cool for 10 minutes before serving.
Serves 8

Print This Page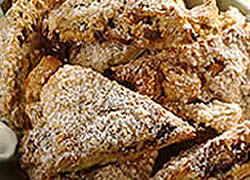 Related Recipe Categories
Desserts
The Culinary Institute of America