Chocolate Soufflé
Some find soufflés to be intimidating, but they are really quite easy to prepare. A simple custard base is lightened with meringue, then baked until it reaches ethereal heights. Served piping hot, in all their towering glory, they are as impressive as they are delicious. This lovely chocolate version is a universal favorite.
5 tablespoons unsalted butter, divided
8 tablespoons granulated sugar, divided
3 large eggs, separated
1/4 cup all-purpose flour
1 cup whole milk
3 ounces bittersweet chocolate, finely chopped
1/2 teaspoon vanilla extract
4 (6-ounce) ramekins
Preheat oven to 350°F. Position a rack in bottom third of oven. Butter insides of ramekins, using 1 tablespoon of butter; make sure to butter top rims of ramekins as well. Use 1 tablespoon of sugar to dust insides of ramekins (including tops of rims), shake ramekins to remove any excess. Place ramekins on a baking sheet (for ease of handling), and refrigerate until needed.
Whisk together egg yolks and 4 tablespoon of sugar in a medium mixing bowl; whisk until yolks are pale yellow in color. Whisk in flour, then set aside until needed.
Combine milk, remaining 4 tablespoons butter, chocolate, and remaining 4 tablespoons of butter in a medium sauce pan over medium heat; cook, stirring often, until chocolate has melted completely and mixture is smooth. Bring just to a boil.
Gradually whisk a 2-ounce ladleful of hot milk mixture into egg mixture, whisking until incorporated (tempering). Add remaining milk, and stir to combine. Pour tempered egg mixture back into sauce pan. Cook over medium heat, whisking constantly, until mixture is the consistency of cake batter. Remove from heat, whisk in vanilla, and set aside until needed.
Place egg whites in a clean work bowl of an electric stand mixer fitted with a clean whisk attachment; whisk on medium-low speed until frothy. Increase speed to medium, and continue whisking until soft peaks form; with mixer running, gradually add remaining 3 Tbsp. sugar. Increase speed to medium-high; continue whisking until whites are shiny and will hold a long soft peak when whisk attachment is lifted.
Whisk one-fourth of meringue into chocolate mixture to lighten it, then, using a large skimmer or spatula, carefully fold chocolate mixture into remaining meringue.
Spoon soufflé mixture into prepared ramekins; ramekins should be filled to the rim. Run your index finger all the way around the inside perimeter to create a 1/2-inch border; this will help the soufflé rise properly.
Place soufflés in oven, and bake until raised well above the rims of the ramekins and just barely firm in the center, about 15 to 17 minutes. Serve immediately with crème anglaise, raspberry sauce, or whipped cream.
Serves 4

Print This Page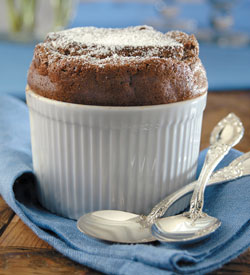 Related Recipe Categories
Desserts
Viking Cooking School Recipes