Lattice-Topped Apple Pie with Brown Sugar and Walnuts
Apples and walnuts kissed with brown sugar and spices peeking through a rich, flaky crust. A perfect way to celebrate the arrival of autumn.
Cream Short Pastry
2 1/4 cups (about 12 oz.) all-purpose flour, plus extra for working dough

1/2 teaspoons fine salt
1 1/2 sticks (12 Tbsp) unsalted butter, cut into 1-in. pieces and chilled
1 large egg, lightly beaten
1/2 cup sour cream
In a large mixing bowl, sift together flour and salt. Cut in the butter with two knives or a pastry cutter until mixture resembles coarsely ground cornmeal, and butter pieces are about the size of small peas.
Whisk the egg and sour cream together until completely combined; gradually add it to flour mixture. Gently mix with your hands just until the dough begins to come together. (Note: Work the dough as little as possible or it will be tough.)
Turn dough out onto a floured work surface or silicone mat. Flatten dough into one disk and one rectangle, sprinkle with a little flour and wrap well with plastic wrap; chill in the refrigerator until firm but malleable, about 1 hour, before rolling out. This will relax the dough and prevent the butter from melting when handled. (Makes two 8 or 9-in. shells - about 1 1/2 lbs. of dough.)

Pie
2 pounds Granny smith apples

1 pound McIntosh apples
1/3 cup plus 1 tsp. granulated sugar, divided
1/3 (packed) cup light brown sugar
2 teaspoons lemon zest, finely minced
1 tablespoon lemon juice, freshly squeezed
1 teaspoon cinnamon, ground
1/8 teaspoon nutmeg, freshly ground
1 teaspoon vanilla extract
1/8 teaspoon fine salt
1/2 cup walnuts, chopped and lightly toasted
2 tablespoon unsalted butter
2 tablespoons cornstarch
2 tablespoons water
2 tablespoons egg wash (1 egg beaten with 1 Tbsp. water)

Preheat oven to 400° F
.
Peel, halve and core each apple, then cut each half into four or five wedges.
Mix 1/2 cup of the granulated sugar, the brown sugar, lemon zest, lemon juice, cinnamon, nutmeg, vanilla extract, salt, and walnuts in a large mixing bowl. Add the apple wedges and toss to blend.
Heat a large skillet over medium heat; add the butter and melt. Add the apple mixture and cook, stirring often, until the sugar melts and the apples begin to exude their juices, approximately 5 to 7 minutes.
Whisk together the cornstarch and water until the cornstarch dissolves. Stir the cornstarch mixture into the apples and incorporate thoroughly. Cook until the juices in the pan become a thick syrup and coat the apples, approximately 2 to 3 minutes. Remove from the heat and set aside to cool*
While the apple mixture is cooling, remove the chilled dough disk from the refrigerator and allow to soften slightly. Roll out on a floured surface or silicone mat to form a 12-inch round, about 1/4-inch thick. Transfer to a 9-inch pie dish, fold the edges under to form a high-standing rim; then pour in the cooled apple filling.
Roll the remaining piece of dough into a 1/8-inch thick rectangle. Using a fluted pastry cutter, cut the rectangle into 1/2- to3/4-inch wide strips. Lay 5 or 6 strips across the pie. Weave a center strip first, folding back alternate strips every time you add another cross strip. Trim the lattice strips to the edge of the pie dish. Fold the bottom crust over the lattice strips and crimp to seal.
Cover pie with plastic wrap and refrigerate for 1 hour. Meanwhile, set a baking sheet lined with aluminum foil on the lowest rack in the oven to catch any drippings. Remove pie from refrigerator and brush egg wash lightly over the top; sprinkle remaining 1 teaspoon of sugar over crust.
Place pie in preheated oven on a middle rack and bake for 10 minutes, then lower the temperature to 350ºF; cover the rim of the pie with aluminum foil or a pie shield and continue baking until golden brown, about 45 to 75 minutes.
If crust begins to brown too quickly, tent pie loosely with aluminum foil. When done, remove from oven and place on a cooling rack; cool for 1 hour before cutting and serving.
*If the filling appears soupy (depending upon the ripeness and/or water content of the apples), transfer to a colander set over a bowl to drain.
Make it ahead:
The pastry dough can be made up to one day in advance and refrigerated. The dough can be frozen for up to 3 months. Thaw frozen dough in the refrigerator before rolling out.
Yields one 9-inch pie

Print This Page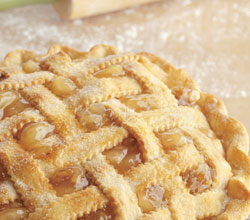 Related Recipe Categories
Desserts
Viking Cooking School Recipes