Le Ciambelline della Giuliana
Giuliana's Ciambelline
by
7 (2.2 lbs. or 1 kg.) cups flour
scant 1/2 cup (100g) sugar (more for dipping)

1 1/3 cup (340 ml) olive oil
1 cup (250 ml) Vin Santo (or Marsala, or any white or even any red wine)
4 teaspoons baking powder
Preheat your oven to 420º F (210º C).
Pour the flour onto a work surface and make a large wide well. Into the well pour the olive oil and Vin Santo. Next add the sugar and then the baking powder.
Mix with a fork slowly, incorporating flour until the dough comes together and you can work it with your hands. Work in as much flour as necessary until the dough is smooth, soft and elastic. Leave aside the extra flour, which may be as much as 1 - 1 1/2 cups (100-150 g.)
Knead the dough for a few minutes until the ingredients are well mixed.
To shape the cookies, cut the dough into chunks more or less the size of a walnut. Roll each one on the work surface with your palm, forming a length of dough
Join the ends to make a little ring (ciambellina) 2 1/2– 3-inch diameter.
Dip the formed cookies in sugar to coat one side and place them, sugar side up, on a cookie sheet.
Bake the cookies at 420º F (210º C) for about 25 minutes, until they are golden brown and slide freely on the cookie sheet.
Remove cookies from the pan and cool on a wire rack.
In the Florentine tradition, ciambelline are accompanied by a glass of Vin Santo, in which the cookies are dipped.
Yields 70 – 75 cookies

Print This Page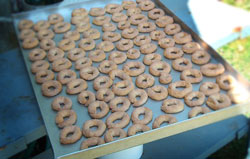 Related Recipe Categories
Desserts

| | |
| --- | --- |
| | Elaine Trigiani develops recipes, writes, and teaches olive oil tasting seminars and olive oil cooking classes in the United States and in Italy. |