Raspberry Granita
by
Traditionally, the liquid base for a granita is poured into a flat dish, placed in the freezer, and stirred by hand every few minutes. For convenience, ours is made in an ice cream machine, freeing you up to attend to other details in the kitchen. To produce the characteristic icy crystals of a granita, scrape the frozen surface with the tines of a fork, then scoop into chilled glasses or serving dishes.
1 cup water
3/4 cup and 2 tablespoons granulated sugar
3 cups (16 ounces) raspberries, fresh or frozen (thawed)
1 tablespoon lemon juice, freshly squeezed, plus additional if needed
Fresh raspberries, as optional garnish
Combine water and sugar in a medium saucepan; bring to a boil over medium heat, stirring constantly, until sugar dissolves. Remove from heat; cool to room temperature, then chill in the refrigerator until cold.
In a food processor fitted with the metal blade attachment, puree raspberries with lemon juice and cold sugar syrup. Strain puree through a fine mesh strainer, pressing on the solids with a ladle to extract as much liquid as possible.
Taste and adjust the flavor with additional lemon juice if needed.
Process puree in an ice cream machine according to the manufacturer's instructions. Process to a soft-serve consistency, then transfer the mixture to a storage container. Press a piece of plastic wrap onto surface, seal container, and freeze until very firm.
To serve, use a fork to scrape the surface of the granita; this will form delicate ice crystals. Scoop crystals into chilled glasses, garnish with fresh raspberries if desired, and serve immediately.
Serves 6

Print This Page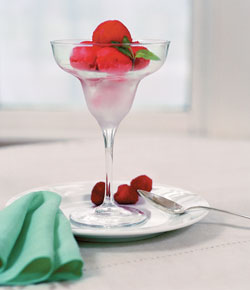 Related Recipe Categories
Desserts
Viking Cooking School Recipes

| | |
| --- | --- |
| | Riki Senn creates, writes and edits curriculum for the Viking Cooking School locations throughout the United States. |