Tiramisù
by
3 egg yolks
2 egg whites
1/4 cup sugar
1/4 pound Mascarpone
1/2 cup plus 2 tablespoons very strong espresso coffee
3 tablespoons dark rum
24 lady fingers
1-3/4 ounces dark chocolate (75% cocoa solids), chopped
1 level teaspoon cocoa powder
In a medium-size bowl, add egg yolks and sugar; beat with an electric hand whisk on high speed for about 3 minutes, or until the mixture forms a light, pale mousse.
In a separate bowl stir the Mascarpone with a spoon to soften it, then gradually beat in egg yolk mixture. Between each addition, beat well until the mixture is smooth before adding more.
Wash and dry the beaters of the whisk so they are perfectly clean, then in a third separate bowl, whisk the egg whites until they form soft peaks. Lightly fold this into the Mascarpone mixture and set aside.
Pour coffee and rum into a shallow bowl and dip the lady fingers one by one, quickly so that they do not disintegrate.
Arrange in a layer in the serving dish. Cover with a layer of the Mascarpone mix, followed by a layer of chopped chocolate. Continue the layers in this order, finishing with a layer of chopped chocolate and a final dusting of cocoa powder.
Let refrigerate for several hours.

Print This Page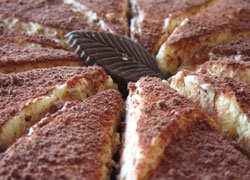 Related Recipe Categories
Desserts