Chocolate Swirl Mascarpone Tart
by
When you combine great ingredients, even the simplest recipes can becomes divine. Take this cheesecake-style tart. Using shortbread cookies in place of graham crackers, replacing cream cheese with sweet mascarpone and swirling in decadent high-quality fudge sauce gives the impression of a dessert that took all day to prepare.
Tart Shell


2 cups shortbread cookies, broken into pieces
6 tablespoons melted butter
Filling


16 ounces mascarpone cheese, at room temperature
1 14-ounce can sweetened condensed milk
2 eggs
2 tablespoons all-purpose flour
1 8-ounce container high-quality fudge sauce
Preheat oven to 375 degrees F. Place cookies in a food processor fitted with the metal blade and pulse several times. Add melted butter and pulse until cookie crumbs are finely chopped and the mixture holds together when pressed. Press mixture into the base of a 10-inch tart pan with a removable bottom. Chill while you prepare the filling.
Place cheese, milk and eggs in the bowl of a food processor fitted with a metal blade and pulse until combined. Sprinkle flour over the top of cheese mixture and pulse until incorporated. Spread mixture into cookie crust base. Place spoonfuls of fudge sauce on top of the mascarpone mixture and pull a knife through the fudge to create a marbled effect.
Bake for 45-55 minutes, or until the center jiggles just slightly. Turn off oven, leave the door open and allow the tart to cool completely. Remove from the oven, cover loosely and chill overnight.
Makes 6-8 servings.

Print This Page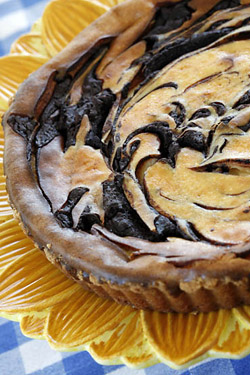 Related Menus
New American Gourmet
Related Recipe Categories
Desserts

| | |
| --- | --- |
| | Karin Calloway is a working mom living in Augusta, Ga., with multiple freelance jobs and a ton of dirty dishes. |