Queso Dip and Chips
"Queso" is the Spanish word for cheese. Queso dip is great with tortilla chips and fresh veggies such as carrots and celery. It's also good as a sauce for cooked veggies like broccoli and cauliflower.
2 tablespoons unsalted butter
1/4 cup chopped yellow or white onion
1 clove garlic, minced
1/4 to 1/2 teaspoon chile powder (depending on how spicy you like it)
2 tablespoons all-purpose flour
1 cup milk (low-fat is fine)
1 cup grated sharp Cheddar cheese (4-ounces)
1/2 cup grated Monterey Jack or Pepper Jack cheese (4-ounces)
1 cup canned diced tomatoes with mild green chiles*
1 (12-ounce) bag tortilla chips
Put butter in a medium sauce pan over medium heat. Let butter melt, then add onion, garlic, and chile powder. Cook, stirring, for 2 to 3 minutes or until the onion is soft. Be careful not to burn the garlic.
Sprinkle in flour, and cook, stirring, for 1 minute. Use a whisk to carefully stir in the milk. Keep whisking until mixture has thickened and is smooth.
Add cheeses, and stir until they are completely melted. Stir in the tomatoes with green chiles, and heat through. Remove from heat, and carefully pour into a serving bowl. Serve warm with tortilla chips.
* Be sure to drain the juice from the tomatoes before you measure them.
Yields: 6 servings

Print This Page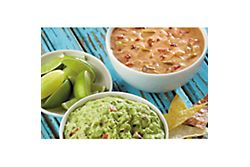 Related Menus
Fun Summer Recipes for Kids
Related Recipe Categories
Appetizers
All
NOT TVL
The Viking Life
Viking Cooking School Recipes