Pad Thai with Shrimp
Sauce
1/3 cup fish sauce
1/4 cup white vinegar
1/4 cup tamarind juice*
3/4 cup granulated sugar, to taste
In a small saucepan, combine fish sauce, vinegar, tamarind juice, and sugar. Cook over medium-high heat until sugar dissolves and the mixture thickens, about 10 to 12 minutes.
Pad Thai
6 ounces medium rice stick noodles
1 (12-ounce) block extra firm tofu
5 tablespoons canola oil, divided
4 whole garlic cloves, minced
2 medium shallots, chopped
1-1/2 pounds jumbo shrimp (21/25 count), peeled and deveined
1/4 cup chopped preserved radishes (optional)
1/2 teaspoon crushed red pepper flakes, or to taste
1/4 cup water
1 tablespoon paprika
1 cup fresh bean sprouts, washed well
4 to 6 green onions, green tops only, cut into 1/16-inch thick slices
1/2 cup finely chopped roasted peanuts
1 whole lime, cut into wedges
Soak dried rice noodles in lukewarm water until somewhat tender but still firm to the touch, about 1 hour; drain well and set aside. Cut tofu into 1-inch cubes; heat a wok over high heat; add 2 tablespoons of oil and heat through. Add tofu and stir-fry until golden brown; set aside until needed.
Place wok over medium-high heat until it is smoking hot. Add remaining 3 tablespoons of oil, then toss in garlic, shallots, shrimp, radishes, and crushed red pepper flakes; stir-fry for 30 seconds. Add drained noodles and 1/4 cup water to the wok, stirring and tossing quickly to separate the strands. Pour in fish sauce mixture and paprika, tossing well to coat the noodles and keep them from sticking. Stir-fry until noodles are tender and the sauce has thickened slightly, about 4 to 5 minutes.
Add cooked tofu and cook another 3 or 4 minutes, tossing to combine and warm the tofu through. Garnish with bean sprouts, green onions, chopped peanuts, and lime wedges. Serve immediately.
*Tamarind is a tropical seed pod that adds a lovely sour flavor to many Thai recipes. To make tamarind juice, mix 2 tablespoons of tamarind pulp with 4 tablespoons of boiling water; mash pulp and stir to combine and extract all of the flavor. Strain the tamarind juice before adding to your dish.
Serves 4

Print This Page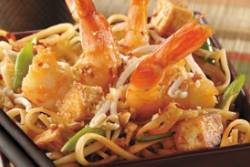 Related Menus
Thai Dinner Party
Related Recipe Categories
Main Dishes
Viking Cooking School Recipes