Tacos de Carne Asada
by
If you think making Mexican food at home is too much trouble, think again. Nothing could be simpler than grilled Tacos de Carne Asada. All you need are some thin strips of steak, fresh lime juice, garlic and salt and pepper for some flavorful, authentic Mexican fare.
The thinly sliced beef cooks very quickly and is delicious served in tortillas and garnished with some ripe avocado, chopped cilantro and a squeeze of lime juice.
2 1/2 pounds sirloin, flank or skirt steak, cut into thin strips
Juice of 2 limes
1 teaspoon minced garlic, about 1 large clove
Sea salt and freshly ground black pepper
Corn or flour tortillas, for serving
Chopped cilantro, for serving
Sliced avocado, for serving
Lime wedges, for serving
Place the sliced steak in a 9x13-inch glass baking dish. Sprinkle with the lime juice, garlic and black pepper, rubbing these into the meat. Cover with plastic wrap and refrigerate for 1-2 hours.
Preheat a grill to medium-high heat. Sprinkle the steak strips with salt and grill 1 1/2 - 2 minutes per side. Remove the meat to a platter. To serve, wrap some of the steak, cilantro and avocado in a tortilla and squeeze a wedge of lime over the top.
Makes 6 servings.

Print This Page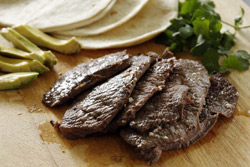 Related Menus
Mexican on the Grill
Related Recipe Categories
Main Dishes

| | |
| --- | --- |
| | Karin Calloway is a working mom living in Augusta, Ga., with multiple freelance jobs and a ton of dirty dishes. |