Meringue Mushrooms
These delectable little mushrooms are usually found "growing" around the base of a bûche de Noël [BOOSH duh noh-EHL] or yule log - a traditional French Christmas cake that is shaped and decorated to look like a log. But by themselves, they make a perfect pick-up dessert at a cocktail party. Light, yet flavorful and cute enough to spark lively conversations amongst your guests. Humidity is the enemy of meringues, so be sure to make these crispy treats on a low humidity day. If humidity is a problem in your area, make them within a few hours of their serving time.
1 (scant) cup whole almonds with skins (1 ounce)
1/2 cup confectioners' sugar (2 ounces)
2 egg whites, brought to room temperature
1/4 teaspoon cream of tartar
1/4 cup plus 1 1/2 teaspoons superfine sugar* (2 ounces)
1/8 teaspoon almond extract
2 ounces semisweet chocolate, melted*
Piping bag and 1/4-inch plain piping tip
Preheat  oven to 250 degrees F. Position two racks in the middle and lower third of the oven. Line two baking sheets with parchment paper, and set aside until needed.

Combine almonds and confectioners' sugar in the work bowl of a mini food processor. Process in short bursts, stopping briefly (2 to 3 seconds) between pulses until nuts are evenly and finely ground. (Note: The mixture should resemble flour. Because fat breaks down meringue, it is important to release as little oil as possible while grinding the nuts. Short bursts of processing will prevent the nuts from becoming too warm and releasing too much oil. The confectioners' sugar helps absorb the oil that is released.) Set nut mixture aside until needed.
Place egg whites in the clean work bowl of an electric stand mixer fitted with a clean whisk attachment; whisk on medium-low speed until frothy. Add cream of tartar, increase speed to medium and continue whisking until soft peaks form; with mixer running, gradually add the superfine sugar, 1 tablespoon at a time. Increase speed to medium-high, and continue whisking until stiff, glossy peaks form.
Remove bowl from the stand mixer; using a large rubber spatula, balloon whisk or slotted skimmer, fold nut mixture and almond extract into the meringue. Spoon meringue into a large piping bag fitted with a 1/4-inch plain tip.
To pipe the mushroom caps, hold the bag perpendicular to the baking sheet with the tip touching the parchment. Squeeze with an even steady pressure, gradually raising the tip as the meringue builds up around it, but keeping the tip submerged in the meringue. Form a mound, approximately 1 1/2-inches in diameter and 1/2-inch high. When the mound is the proper size, stop squeezing, then raise the tip. Smooth the point on the top of the mound with a lightly moistened fingertip. To pipe the stems, squeeze out a dime-sized mound of meringue, then pull the bag up making a 3/4-inch high cone; stop squeezing, and pull the pastry bag straight up, leaving a small tail. (Note: Some stems may fall over or bend during baking, so make a few extra.)
Immediately place the baking sheets in the oven; bake until the meringues are lightly browned and dry to the touch, about 1 hour. Remove the baking sheets from the oven, and place on cooling racks; allow to cool.
When cool, use the tip of a small knife to make a small hole in the underside of each mushroom cap. To assemble the mushrooms, place the melted chocolate in a small piping bag (or parchment paper cone), and pipe a small amount of chocolate into the hole in each cap. Attach stems by inserting them into the chocolate-filled holes. Set aside, and allow chocolate to dry. Store in an airtight container away from humidity. (Note: Best served the day they are made, and best made on a day with low or no humidity.)
Tips and Techniques
* If you do not have superfine sugar, place granulated sugar in a food processor and process until very fine.
** To Melt Chocolate: Double Boiler Method: Place the chopped chocolate (and butter, if required) in the top portion of a double boiler. Fill the lower portion of the double boiler one-fourth full with hot water; place it over the heat, and bring to the boil. As soon as the water boils, remove the pot from the heat; place the upper portion of the double boiler containing the chocolate on top of the hot water. Stir occasionally while the chocolate melts. Microwave Method: Chop the chocolate (and
butter, if required) finely, and microwave for 1 minute on defrost; stir and repeat as needed until completely melted.
Makes 24 mushrooms
Exclusive recipes provided by Viking Cooking School.

Print This Page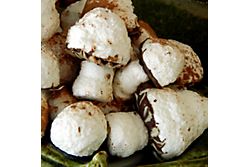 Related Menus
Around-the-World Holiday Cocktail Party

Related Recipe Categories
All
NOT TVL
The Viking Life
Desserts
Featured Recipes
Viking Cooking School Recipes
Viking Owner's Exclusives