Blue Cheese and Toasted Walnut Canapés with Caramelized Onion and Apple Relish
Blue cheese, walnuts, and port are a match made in heaven. This delightful little canapé is a twist on that classic pairing. Moist date nut bread is topped with creamy blue cheese and chopped toasted walnuts. Crowned with caramelized apples and onions spiked with Ruby Port, it delivers a beautiful blend of these traditional English flavors in a single bite. Cheers!
1 (1-pound) loaf date nut bread*
2 tablespoons canola oil
1 cup julienned white or yellow onions (about ½ large onion)
1 cup julienned Granny Smith apple (about 1 medium apple)
1/4 teaspoon chopped fresh thyme, plus extra sprigs for garnish
1 tablespoon Ruby or Tawny Port, of drinkable quality
1/4 teaspoon finely chopped flat-leaf parsley
Salt and freshly ground pepper, to taste
4 ounces creamy blue cheese (such as Stilton**), brought to room temperature
3 tablespoons heavy cream
1/4 cup chopped walnuts, (1 ounce) toasted***
24 small sprigs flat-leaf parsley, for garnish
1 1/2 to 2-inch round cutter
Preheat oven to 350 degrees F. Position a rack in center of oven.
Slice bread into 1/4-inch thick slices. Place slices in a single layer on a baking sheet, and place in oven until very lightly toasted, about 6 to 8 minutes. (Note: Because date nut bread is very dark in color, you will not see a noticeable browning. You will be able to detect slight drying, but the bread will continue to feel fairly moist. It will continue to crisp as it cools.)
Use a round cutter to cut 24 circles from the bread. Reserve scraps for another use. Set aside the toasts until needed.
Heat a medium sauté pan over medium heat; add oil and heat through. Add onions, apples and thyme, and sauté until onions are caramelized, about 12 minutes. Add port and cook until it has evaporated, about 1 minute more. Remove from heat, stir in parsley, and season to taste with salt and pepper. Set aside to cool.
Crumble blue cheese, and place it in the work bowl of a mini-food processor. Add cream, and pulse just until mixture is creamy and spreadable. Scrape spread into a small bowl; stir in toasted walnuts. Spread 1 to 2 teaspoonfuls of blue cheese/walnut spread on each toast, then top with a small spoonful of the onion and apple relish. Garnish each with a sprig of parsley. Attractively arrange on a serving plate or platter.
Tips and Techniques
* Ready-to-eat date nut bread may be purchased in the bakery or specialty section of many grocery stores. It may also be purchased online at hometownfavorites.com or thevermontcountrystore.com. Coarsely ground date nut breadcrumbs are delicious sprinkled over ice cream or used as part of a crumble topping for a baked fruit dessert. If date nut bread is not available, substitute a dense, moist whole wheat bread.
** If Stilton is not available substitute another creamy blue cheese such as Gorgonzola Dolce or Saga. If using saga, decrease the cream to 2 tablespoons.
*** Toasting Nuts: To toast in the oven, spread the nuts in a single layer on a baking sheet. Place in a 350 F oven and toast, shaking the pan occasionally, until they are light golden brown. To toast on the stovetop, place the nuts in a dry sauté pan large enough to accommodate them in a single layer. Place over medium heat and cook, stirring frequently, until they begin to color. Remove from the heat, then immediately remove from the hot pan to stop the browning process.
Makes 24


Exclusive recipes provided by Viking Cooking School.

Print This Page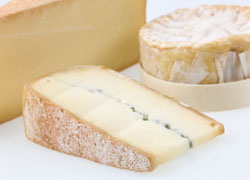 Related Menus
Around-the-World Holiday Cocktail Party

Related Recipe Categories
Appetizers
Viking Cooking School Recipes
Viking Owner's Exclusives