Basil Balsamic Bloody Mary's
This is the last Bloody Mary recipe you will ever need! It starts with a high-quality mix and the usual suspects - vodka, lime juice, celery salt and Worcestershire. Tabasco and horseradish add just the right amount of kick while fresh basil and balsamic impart a sophisticated Italian touch. Garnish with blue cheese-stuffed olives,and you've got the ultimate Bloody Mary.
1/4 cup plus 1 teaspoon celery salt, divided, or to taste
1 lime wedge
18 ounces spicy Bloody Mary mix (or Spicy Hot V8®)
6 ounces vodka
3 tablespoons freshly squeezed lime juice (about 2 limes)
2 teaspoons Worcestershire sauce
1/2 teaspoon hot pepper sauce (such as Tabasco®), or to taste
1 tablespoon prepared horseradish, or to taste
2 tablespoons aged balsamic vinegar
1 small bunch fresh basil, reserve 4 sprigs for garnish
8 to 12 blue cheese-stuffed olives, for garnish
Special Equipment:
4 cocktail picks
4 chilled old-fashioned glasses
Large cocktail pitcher
Pour 1/4 cup celery salt into a small saucer. Moisten the rim of each chilled glass with a wedge of lime, then gently press the rim of each glass into the celery salt.
In a large pitcher, mix together the Bloody Mary mix, vodka, lime juice, Worcestershire sauce, hot pepper sauce, horseradish and balsamic vinegar; add the basil and muddle. Refrigerate until ready to serve.
Just before serving, stir the Bloody Mary mixture well, then remove and discard the bunch of basil. Taste and adjust the seasoning as needed with celery salt, hot pepper sauce and horseradish.
Skewer 2 or 3 blue cheese-stuffed olives onto each cocktail pick. Fill each glass with ice,then add the Bloody Mary mixture. Garnish each with a sprig of basil and a skewer of blue cheese stuffed olives, and serve immediately.
Tips and Techniques
Make It Ahead: Prepare the Bloody Mary mixture up to one day in advance.
Makes 4 cocktails


Exclusive recipes provided by Viking Cooking School.

Print This Page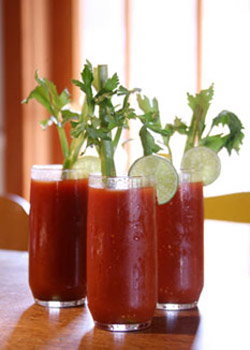 Related Menus
Champagne Brunch

Related Recipe Categories
Beverages
Viking Cooking School Recipes
Viking Owner's Exclusives