Cranberry-Apple Crumble
Fresh apples and cranberries are topped with a toasty oatmeal, cinnamon and brown sugar topping that's studded with pecans. The result is a warm and bubbling crumble that can be used as a side dish, dessert or relish for turkey or ham.
Filling:
3 cups peeled and sliced Granny Smith apples (about 3 to 4 apples)
2 cups fresh (or thawed frozen) cranberries
1 teaspoon finely minced orange zest
1/2 teaspoon fine salt
1 teaspoon unsalted butter, for buttering pan
3/4 cup granulated sugar
Topping:
2 sticks unsalted butter (16 tablespoons), melted
1 teaspoon fine salt
1 (packed) cup light brown sugar
2 teaspoons ground cinnamon
1/2 teaspoon freshly grated nutmeg
1 cup chopped pecans
1 cup rolled oats
2/3 cup all-purpose flour
For the Filling: In a large mixing bowl, toss the apples and cranberries with the zest and salt. Transfer to a buttered 9 x 13-inch baking dish; pour the granulated sugar evenly over the fruit mixture. Preheat the oven to 350°F.
For the Topping: Combine all of the topping ingredients in the work bowl of a food processor; pulse until the mixture is crumbly and the butter is well coated.
To Assemble: Spoon the topping mixture evenly over the sugared fruit. Bake in the preheated oven until the topping is golden and the fruit is bubbling, about 45 minutes.
Tips and Techniques
Make It Ahead: Assemble the recipe one day ahead; refrigerate until ready to bake. Place in the oven when you remove the turkey so that it can be served hot and bubbly.
Variation: Substitute peaches or pears for the apples - and blueberries or blackberries for the cranberries.
Make It Vegetarian: Substitute soy margarine for the butter.
Serves 8


Exclusive recipes provided by Viking Cooking School.

Print This Page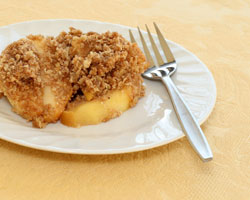 Related Menus
Turkey Workshop

Related Recipe Categories
Desserts
Viking Cooking School Recipes
Viking Owner's Exclusives