Ultimate Holiday Giblet Gravy
Giblets are not only traditional, they are vital to making richly flavored turkey gravy. Another crucial component is the deeply browned pan drippings leftover from roasting the turkey. In fact, this gravy is made directly in the roasting pan to capture every bit of flavor.
Pan drippings from turkey
1 cup dry white wine, of drinkable quality
2 tablespoons rendered fat from pan drippings (or unsalted butter)
2 tablespoons all-purpose flour
2 cups turkey stock, (recipe on this site - or purchase pre-made*)
Reserved giblets from turkey, cooked and diced** (optional)
1 tablespoon finely chopped fresh flat-leaf parsley
Salt and freshly ground white pepper, to taste
Pour pan drippings through a coarse strainer into a gravy separator; set aside until needed.
Place roasting pan over two burners on medium-high heat. When pan is hot, pour wine into pan, quickly scraping up any browned bits that have formed on the bottom of the pan (deglazing). Strain this liquid into the gravy separator as well. (Note: You will use the rendered fat that pools at the top of the gravy separator to make a roux.)
To make the roux, heat 2 tablespoons of the rendered fat (or unsalted butter) in a medium sauce pan. Sprinkle in flour, and cook for 2 to 3 minutes. Whisk in the de-fatted pan drippings and stock, and bring to a boil. Reduce heat, and simmer until thickened, about 3 to 4 minutes. (Note: Strain again, if desired.)
Whisk in cooked and diced giblets; return gravy to a simmer, then whisk in parsley. Season to taste with salt and pepper. Pour into a gravy boat, and serve hot.
Tips and Techniques
Make It Ahead: The gravy can be made up to 1 hour in advance
* Quality turkey stock base is a quick and easy, yet delicious, substitute for making your own turkey stock.
** See Turkey Stock recipe on this site for instructions on cooking giblets
Makes about 3 cups


Exclusive recipes provided by Viking Cooking School.

Print This Page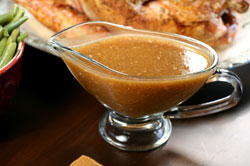 Related Menus
Turkey Workshop

Related Recipe Categories
Sauces, Spreads, and Spices
Viking Cooking School Recipes
Viking Owner's Exclusives