French-Style Green Beans
French-style green beans are sliced lengthwise into thin julienne strips. You can slice the beans with a sharp paring knife or with a bean slicer designed specifically for the task. When seasoned with smoky bacon and a touch of onion, these beans are an attractive and appealing side dish.
6 thick slices smoked bacon,* finely chopped (or cut into 1-inch pieces)
1 medium white or yellow onion, finely chopped
1 pound fresh green beans, trimmed and julienned
Salt and freshly ground black pepper, to taste
Heat a large sauté pan over medium heat; add the bacon and cook, stirring often, until the bacon begins to brown.
Pour off the excess fat, then add the onions; cook the onions in the bacon fat until soft and translucent, about 5 to 8 minutes.
Add the green beans, and continue cooking over medium heat until tender, about 4 to 5 minutes. Season to taste with salt and pepper; serve hot.
Tips and Techniques
* Partially freeze the bacon to make it easier to chop.
Make It Light: Eliminate the bacon, and sauté the onions in 1 tablespoon of olive oil.
Make It Ahead: This dish can be made up to one day in advance; store, tightly covered, in the refrigerator. Reheat gently over medium heat.
Variation 1: Add sliced fresh mushrooms along with the onions.
Variation 2: Place the French-Style Green Beans in a baking dish; top with béchamel sauce and breadcrumbs, then bake in a preheated 375°F oven for about 15 minutes.
Serves 6 to 8


Exclusive recipes provided by Viking Cooking School.

Print This Page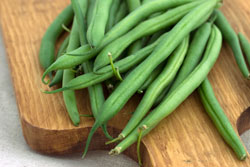 Related Menus
Turkey Workshop

Related Recipe Categories
Vegetables and Sides
Viking Cooking School Recipes
Viking Owner's Exclusives