Turkey and Spinach Risotto
This risotto is dotted with bites of tender roasted turkey, fresh spinach and the distinctive flavor of Parmigiano-Reggiano. A key to successful risotto is to use the proper type of rice, such as Arborio, which cooks to a creamy consistency, but remains firm to the bite.
1/2 stick unsalted butter (4 tablespoons), divided
1 tablespoon extra-virgin olive oil
1 medium white or yellow onion, finely diced
1 clove garlic, minced
2 cups Arborio rice
1/2 cup dry white wine, of drinkable quality
5 to 7 cups chicken stock, simmering
Salt and freshly ground black pepper, to taste
2 (packed) cups coarsely chopped fresh spinach, stems removed
1 cup leftover turkey, cut into bite-size cubes
2 ounces Parmigiano-Reggiano, grated (about 1/2 cup), plus extra for garnish
Place a medium casserole (or risotto pan) over medium heat; add 3 tablespoons of butter and olive oil and heat through. Stir in diced onion and cook until tender and translucent, about 5 to 8 minutes; add garlic and cook one minute more.
Add Arborio rice to casserole (or risotto pan), stirring constantly to coat each grain. Cook for 1 to 2 minutes, then add wine, continuing to stir until all of the wine has been absorbed.
Stirring constantly, add a large (6-ounce) ladleful of the simmering stock to the rice mixture. When stock has been absorbed, add another ladleful, stirring constantly. Continue adding stock as needed, stirring constantly, until rice is cooked, about 20 minutes. (Note: You may not use all of the liquid or you may need more.) The rice is cooked when it is tender and creamy with a slightly firm center. Taste, and adjust the seasoning with salt and pepper.
Remove casserole from heat; stir in spinach, turkey, Parmigiano-Reggiano and the remaining tablespoon of butter. Serve garnished with additional Parmigiano-Reggiano.
Serves 8 to 10


Exclusive recipes provided by Viking Cooking School.

Print This Page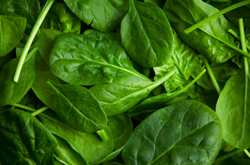 Related Menus
Turkey Workshop

Related Recipe Categories
Sauces, Spreads, and Spices
Viking Cooking School Recipes
Viking Owner's Exclusives