Cranberry Bliss Bars
These decadent treats were made wildly popular by Starbucks coffee houses who feature them only in the fall. Aficionados mark the arrival of autumn by their appearance in the pastry case, and cannot wait to get their cranberry bliss "fix." While copycat recipes abound, this one, adapted from Diane Phillips, a popular Viking Cooking School guest chef, makes a blissfully delicious bar. They freeze beautifully and will keep for about 3 days in the refrigerator- that is, if you can keep them around that long!
Bars:
Vegetable oil cooking spray
2 1/2 cups all-purpose flour
1/4 teaspoon fine salt
1/2 teaspoon ground ginger
1/2 teaspoon pumpkin pie spice
2 teaspoons baking powder
2 sticks unsalted butter (16 tablespoons), melted
1 1/2 (packed) cups light brown sugar
1/2 cup granulated sugar
4 large eggs
1 tablespoon orange liqueur (such as Grand Marnier®)
1 cup dried cranberries
1 cup white chocolate chips
Frosting:
3 ounces cream cheese, brought to room temperature
1 stick unsalted butter (8 tablespoons), divided, brought to room temperature
2 cups confectioners' sugar
1 tablespoon orange liqueur (such as Grand Marnier®)
1/3 cup dried cranberries
6 ounces white chocolate
2 teaspoons finely minced orange zest
Special Equipment:
10 x 15-inch jelly roll pan
For the Bars: Preheat the oven to 350°F, position a rack in the middle of the oven. Line a 10 x 15-inch jelly roll pan with a silicone baking mat, aluminum foil or parchment paper. (Note: If using foil or parchment, spray it lightly with non-stick cooking spray.)
Combine the flour, salt, ginger, pumpkin pie spice and baking powder in a mixing bowl; whisk to combine, and set aside.
.
In the bowl of an electric mixer fitted with the paddle attachment, combine the butter, sugars, eggs and orange liqueur; mix until light and fluffy, about 3 minutes.
Add the flour mixture, and blend until the flour begins to blend into the batter, about 45 seconds to one minute. Add the cranberries and the chocolate chips, stirring just to blend, being careful not to over-mix the dough.
Spread the batter in the prepared pan, and bake until a toothpick inserted into the center comes out with a few crumbs adhering to it, about 16 to 18 minutes. Remove the pan from the oven, and allow to cool completely on a wire rack.
For the Frosting: Combine the cream cheese and 6 tablespoons of the butter in the bowl of electric stand mixer fitted with the paddle attachment. Mix on medium speed until smooth and creamy, about 2 to 3 minutes.
Add the sugar and orange liqueur, and beat until the mixture is spreadable consistency. Spread the frosting evenly over the cooled bars, then sprinkle the dried cranberries over the surface.
In a double boiler, over barely simmering water, melt the chocolate with the remaining 2 tablespoons of butter, until smooth. Drizzle the white chocolate over the frosting in a decorative pattern, then garnish with the orange zest. Once the chocolate has set, use a large knife to cut into bars. Store in an airtight container in the refrigerator for 3 days, or freeze for up to 6 weeks.
Makes 40 bars


Exclusive recipes provided by Viking Cooking School.

Print This Page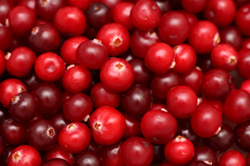 Related Menus
Holiday Sweets

Related Recipe Categories
Desserts
Viking Cooking School Recipes
Viking Owner's Exclusives