Pumpkin and Potato Gratin with Bacon and Gruyère Cheese
6 cups peeled and cubed (1-inch) fresh pumpkin (about 1 1/2 pounds)
2 large russet potatoes, peeled and cut into 1-inch cubes
Salt, to taste
1/2 stick unsalted butter (4 tablespoons), brought to room temperature, divided
1/2 teaspoon freshly grated nutmeg
2 teaspoons finely chopped fresh sage
Freshly ground black pepper, to taste
3 large eggs
1 1/2 cups shredded Gruyère cheese (6 ounces), divided
8 slices smoked bacon, cooked until crisp, cooled and crumbled (reserve rendered bacon fat)
1 medium red onion, diced
1 cup Japanese breadcrumbs (panko)
1 green onion, green tops only, very thinly sliced
Preheat oven to 400 degrees F. Place pumpkin and potato cubes in a medium sauce pan with enough cold water to cover. Add a large pinch of salt, and bring to a boil. Immediately reduce heat to a simmer, and cook, uncovered, until potatoes are tender when pierced with the tip of a small knife, about 20 minutes. Drain in a colander, then return to the same pan (off the heat).
Add 3 tablespoonfuls of butter to the pan, and mash with a potato masher (or pass through a food mill). Add nutmeg and sage, then season to taste with salt and pepper. Whisk in the eggs, one at a time, until completely combined, then stir in half the cheese.
Heat a medium sauté pan over medium heat; add 1 to 2 tablespoonfuls of the reserved bacon fat and heat through. Stir in onion, and cook until tender and translucent, about 5 to 8 minutes.
Oil the bottom of a 2-quart gratin dish with some of the reserved bacon fat. Layer sautéed onions on the bottom of the oiled pan. Spread pumpkin mixture evenly over onions, then sprinkle remaining cheese evenly over the top. Blend remaining tablespoonful of butter with breadcrumbs, green onions, and crumbled bacon; sprinkle evenly over the cheese mixture.
Bake uncovered, until the crust is light golden brown, about 30 to 45 minutes. If crust is getting too brown, cover with aluminum foil to finish the cooking process; let stand 10 minutes before serving.
Tips and Techniques
Variation: Substitute acorn or butternut squash for the pumpkin.
Make It Ahead: Assemble the gratin through Step 5 up to 2 days in advance; remove from the refrigerator 30 minutes before baking.
Serves 8 to 10
Exclusive recipes provided by Viking Cooking School.

Print This Page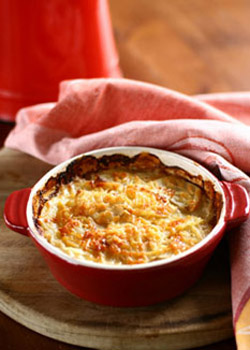 Related Menus
The Great Pumpkin

Related Recipe Categories
Vegetables and Sides
Viking Cooking School Recipes
Viking Owner's Exclusives