Haricots Verts with Orange Zest
These lovely slender green beans are blanched until they are just tender, then quickly sautéed in butter. Finished with a sprinkling of finely grated orange zest, they are the perfect addition to an elegant meal or a weeknight supper.
1 pound haricots verts or slender green beans, washed and picked through
3 quarts water
1 tablespoon kosher salt, plus additional for seasoning
2 tablespoons unsalted butter
2 teaspoons freshly grated orange zest
Freshly ground black pepper, to taste
1. Trim off the stem ends of the beans; leave the pointed ends intact.
2. Bring the water to a boil in a large pot. Add the tablespoon of salt and bring back to the boil. Add the beans and cook until just crisp tender, about 4 to 5 minutes for haricots verts and 6 to 7 minutes for standard green beans. Drain the beans, then immediately plunge them into ice water to stop the cooking process. As soon as the beans are cool, drain thoroughly and set aside.
3. Place a large sauté pan over medium high heat; add the butter and allow to melt. When the foaming has subsided, add the beans and sauté until heated through, about 3 to 5 minutes. Sprinkle the orange zest over the beans, tossing to distribute evenly. Season to taste with salt and pepper; serve immediately.
Serves 4


Exclusive recipes provided by Viking Cooking School.

Print This Page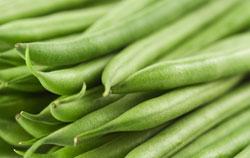 Related Menus
Holiday Dinner Party

Related Recipe Categories
Vegetables and Sides
Viking Cooking School Recipes
Viking Owner's Exclusives