Caramel Pecan Clusters
Golden chewy caramel, toasted pecans and rich chocolate come together to make a delicious and adorable favorite. Although turtles have a reputation for being slow, these are sure to go quickly!
8 ounces pecan halves (about 3 cups), toasted*
1/2 cup granulated sugar
1/2 (packed) cup light brown sugar
1 cup light corn syrup
1 cup evaporated milk, divided
1/2 stick unsalted butter (4 tablespoons), plus extra if needed for buttering parchment paper
2 teaspoons vanilla extract
1/3 cup chopped pecans, toasted*
8 ounces semisweet or milk chocolate, melted and tempered**
4 ounces white chocolate, melted and tempered** (optional)
Candy thermometer, silicone baking mat or parchment paper
Line two baking sheets with buttered parchment paper or silicone baking mats. Arrange pecan halves in star-shaped clusters on baking sheets with the nuts overlapping slightly in the center of each cluster. Space the clusters about 1-inch apart, then set aside until needed.
Stir together granulated sugar, brown sugar, corn syrup and 1/2 cup of evaporated milk in a medium sauce pan. Place over medium-high heat and bring to a boil. Stir in remaining evaporated milk and butter. Attach a candy thermometer to the side of the pan so the tip is submerged, but is not resting on the bottom of the pan.
Cook, stirring constantly, until the thermometer registers 240 degrees F (soft ball stage). Remove from heat, and stir in vanilla and chopped pecans. Let cool until caramel reaches approximately 175 to 185 degrees F. (Note: The caramel should still be very soft, but should not run when spooned onto a plate or piece of parchment paper.)
Use a tablespoon to spoon caramel into the middle of each of the pecan clusters, dividing the caramel evenly. The caramel should form a disk approximately 1 1/2-inches in diameter and should cover the center of each cluster; however, the edges of each pecan should still be visible. (Note: These are the feet and the head of the turtle.) If caramel becomes too stiff while forming the turtles, return it to low heat, stirring constantly, until it softens to the desired consistency. Once turtles are formed, let caramel harden.
Spoon about 1 tablespoon melted chocolate over each turtle, covering caramel completely. Set aside in a cool place and allow chocolate to harden. Place melted white chocolate (if using) in a paper piping cone and decorate the "shell" of each turtle; let white chocolate harden. Store turtles in an airtight container with parchment or wax paper between the layers.
Tips and Techniques
* To Toast Nuts: To intensify the flavor of nuts, toast them before adding them to your dish. They may be toasted in the oven or on the stovetop. To toast in the oven, spread the nuts in a single layer on a baking sheet. Place in a 350°F oven and toast, shaking the pan occasionally, until they are light golden brown. To toast on the stovetop, place the nuts in a dry sauté pan large enough to accommodate them in a single layer. Place over medium heat and cook, stirring frequently, until they begin to color. Remove from the heat, then immediately remove from the hot pan to stop the browning process.
** Please refer to the candy workshop handout for detailed instructions on melting and tempering chocolate. It is not absolutely necessary to temper the chocolate. If the turtles are to be stored for several days, the chocolate coating will remain firmer if it has been tempered.
Makes 28 to 30 turtles


Exclusive recipes provided by Viking Cooking School.

Print This Page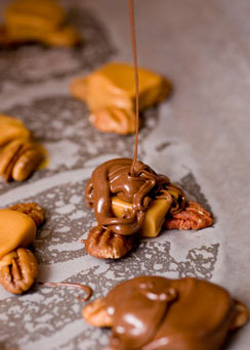 Related Menus
Candy Workshop

Related Recipe Categories
Desserts
Viking Cooking School Recipes
Viking Owner's Exclusives