Eggnog Panna Cotta
by
Enjoy your eggnog at the end of your holiday meal instead of the beginning with these simple-to-prepare Eggnog Panna Cottas. A quart of eggnog and some plain gelatin are all you need to make these delicious, light little individual desserts that are perfect for the holidays.
The instructions call for cooling the eggnog-gelatin mixture in an ice water bath, but I have skipped the step without noticeable changes in the final product. If you'd rather not get out another bowl, just pour the mixture directly into the prepared ramekins and refrigerate.
Use low-fat eggnog to make this a lighter holiday dessert, and drizzle each serving plate with a bit of prepared caramel sauce before serving.
Nonstick cooking spray
2 tablespoons water
2 envelopes powdered gelatin
1 quart prepared eggnog
Prepared Caramel Sauce
Spray 6 6-ounce ramekins with nonstick cooking spray.
Pour water into a bowl. Sprinkle gelatin over water and set aside for 3 minutes, until the gelatin softens. Fill a large, wide bowl halfway with ice and water and set aside.
Heat eggnog in a large saucepan over medium heat until simmering. Remove saucepan from heat and whisk in gelatin mixture. Set the bottom of the saucepan in ice water and stir until slightly cooled. Divide eggnog mixture among the prepared ramekins, cover with plastic wrap and refrigerate for 3 hours.
To serve, run a small pairing knife around the edge of each ramekin and use the tip of the knife to gently unmold the panna cotta onto a dessert plate. Drizzle some of the caramel sauce around the outside of each panna cotta and serve.
Makes 6 servings.

Print This Page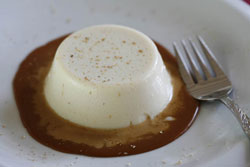 Related Menus
A Lighter Holiday Dinner Party
Related Recipe Categories
Desserts

| | |
| --- | --- |
| | Karin Calloway is a working mom living in Augusta, Ga., with multiple freelance jobs and a ton of dirty dishes. |