Baked Sweet Potato Fries
by
Sweet potatoes are available year-round, but their prime season is really autumn and winter. Choose potatoes that are smooth and unblemished, and use them fairly soon because they don't keep as well as other potatoes. These potatoes are crispy like fries but they're better for you because they're baked.
2 medium sweet potatoes, peeled
2 tablespoons good olive oil
1 tablespoon light brown sugar
1⁄2 teaspoon kosher salt, plus extra for sprinkling
1⁄2 teaspoon freshly ground black pepper
Preheat oven to 450 degrees F. Halve sweet potatoes lengthwise and cut each half into 3 long spears. Place them on a sheet pan and toss with olive oil. Spread potatoes in one layer. Combine brown sugar, salt, and pepper and sprinkle on the potatoes. Bake for 15 minutes and then turn with a spatula. Bake for another 5 to 10 minutes, until lightly browned. Sprinkle lightly with salt and serve hot.
Serves 4

Print This Page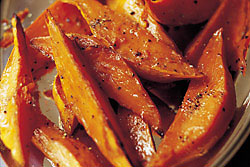 Related Recipe Categories
Vegetables and Sides

| | |
| --- | --- |
| | In 1978, Ina Garten left her job as a budget analyst at the White House to pursue her dream: opening a specialty food store in the Hamptons. Since opening The Barefoot Contessa, she has gone on to write five phenomenally successful cookbooks. |