Crawfish Pies
Traditionally, crawfish pies are savory turnovers made with basic pastry dough which are deep-fried. We've chosen to use prepared puff pastry dough, because it produces a buttery, flakey crust and is quick and easy to use. Be sure to pinch the edges firmly before baking to make sure the pies are well sealed.
1 tablespoon unsalted butter
1 tablespoon canola oil
3/4 cup finely diced white or yellow onion
1/2 cup finely diced celery
1/3 cup finely diced red bell pepper
2 teaspoons Creole Seasoning (such as Tony Chachere's® Creole Seasoning),** or to taste
3 cloves garlic, minced
2 tablespoons tomato paste
2 tablespoons cornstarch
1/2 cup water
2 teaspoons hot pepper sauce (such as Tabasco®), or to taste
1 tablespoon freshly squeezed lemon juice
1/2 pound peeled crawfish tails (fresh or thawed frozen***), coarsely chopped
3 to 4 green onions, green tops only, very thinly sliced
2 tablespoons chopped fresh flat-leaf parsley
1 (17.3-ounce) box frozen puff pastry, thawed overnight in the refrigerator
1 egg wash (1 large egg mixed with 1 teaspoon water)
Special Equipment:
1 (4-inch) round cutter
Preheat the oven to 400°F. Heat the butter and oil over medium heat in large sauté pan. Add the onions, celery, bell pepper and Creole seasoning and cook until tender, about 5 minutes.
Add the garlic and cook until fragrant, about 1 minute more. Increase the heat to high.
Stir in the tomato paste and cook until thoroughly combined. Whisk together the cornstarch and water, and add to the onion mixture. Bring to the boil, whisking constantly, until the sauce has thickened, about 2 minutes. Add the hot pepper sauce, lemon juice, crawfish, green onions and parsley, and whisk to combine. Taste, and adjust the seasoning as needed with Creole seasoning and hot pepper sauce. Remove the pan from the heat, and set aside to cool completely.
Place a sheet of puff pastry on a clean work surface. Use a 4-inch round cutter to cut 4 circles from the puff pastry. Repeat with one more sheet of puff pastry to make a total of 8 circles.
Lightly brush the outside edge of each pastry circle with egg wash. Place 1 to 2 tablespoonfuls of the cooled crawfish mixture in the center of each pastry circle. Fold the pastry over to cover the filling. Pinch the edges firmly to seal, then use the tines of a fork to crimp the edges.
Place the pies on a parchment-lined baking sheet, and brush the tops lightly with egg wash. Bake until the pies are golden brown and crispy, about 15 to 20 minutes. Remove from the oven, and serve warm or at room temperature.
Tips and Techniques
* There will be more filling than is needed to make 8 pies. If desired, double the puff pastry to make 16 pies, or freeze the filling for making more pies at a later date.
** Creole seasoning is available in specialty markets or in the spice section of many grocery stores. If you are unable to locate in your area, visit cajungrocer.com.
*** If using thawed frozen crawfish tails, drain the tails well and pat dry with paper towel before using in the recipe.
Serving Suggestions: Serve the warm filling in phyllo cups as an hors d'oeuvre. Also delicious served as a filling for spring rolls.
Makes 8 pies*
Exclusive recipes provided by Viking Cooking School.

Print This Page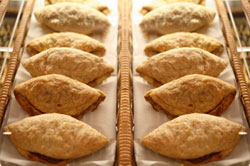 Related Menus
French Quarter Feast

Related Recipe Categories
Appetizers
Viking Cooking School Recipes
Viking Owner's Exclusives