Cajun Red Beans and Rice with Smoked Sausage
Nothing says comfort food like a big bowl of red beans and rice. In our version, we puree half of the beans for a nice, creamy texture. If you prefer whole beans, simply omit this step - or puree a smaller proportion of the
beans. Some New Orleanians like to stir a squirt of yellow mustard into their bowl of beans. Try it - you'll be surprised how tasty it is!
3 tablespoons canola oil, divided
12 ounces smoked pork sausage (such as andouille), thinly sliced
1 medium white or yellow onion, finely diced
1/2 medium green bell pepper, stem, seeds and ribs removed, finely diced
1 stalk celery, trimmed and finely diced
1 teaspoon Creole seasoning (such as Tony Chachere's® Creole Seasoning),** or to taste
2 cloves garlic, minced
2 bay leaves (preferably Turkish)
1/4 teaspoon finely chopped fresh thyme
2 whole green onions, very thinly sliced
3 cups water
1 pound dried red kidney beans, cooked (or three 15½-ounce cans red kidney beans)***
1 tablespoon red wine vinegar, or to taste
1 teaspoon hot pepper sauce (such as Tabasco®), or to taste
Simmered White Rice (recipe follows), as an accompaniment
2 tablespoons finely chopped fresh flat-leaf parsley, plus extra sprigs for garnish
Heat a medium sauce pot over medium heat; add 1 tablespoon of the oil and heat through. Add the sausage and cook until just starting to brown, about 3 to 4 minutes; transfer to a bowl, and tent with foil. Set aside until needed.
Place the pan back over medium heat; add the remaining oil and heat through. Stir in the onions, bell peppers, celery and Creole seasoning, and cook until tender, about 5 minutes.
Add the garlic, bay leaves, thyme and green onions, and cook until the aroma is released, about 1 minute more.
Increase the heat to high; add the water, stirring to scrape up any browned bits from the bottom of the pan. Add the beans, and bring to the boil; immediately reduce the heat and simmer, uncovered, until very tender and starting to break down, about 1 hour. (
Note: Remove and discard any foam (scum) that rises to the top of the pot during cooking.
)
Remove the pan from the heat; remove and discard the bay leaves. Puree half of the bean mixture in a blender;**** add the bean puree back to the sauce pot and stir to combine.
Add the sausage, vinegar and hot pepper sauce, and simmer until the sausage is completely warmed through, about 5 minutes. Taste, and adjust the seasoning as needed with Creole seasoning, vinegar and hot pepper sauce.
For each serving, ladle about one cup of beans over one cup of rice; garnish with fresh parsley, and serve immediately.
Tips and Techniques
* This recipe doubles easily and freezes beautifully.
** Creole seasoning is available in specialty markets or in the spice section of many grocery stores. If you are unable to locate in your area, visit cajungrocer.com.
*** Pick through the dried red kidney beans, removing any pebbles or debris; soak overnight in three times their volume of water. Drain the beans, then rinse under cold running water. Combine the beans, 2 teaspoons of kosher salt and 2 quarts of water in a medium sauce pot over medium-high
heat; bring to the boil. Reduce the heat and simmer until the beans are tender, about 2 to 3 hours.
Remove and discard any foam (scum) that rises to the top of the pot during cooking. Add additional water if the beans are becoming dry. If not using immediately, cool quickly in an ice water bath and store, tightly covered, for up to 5 days. If using canned beans, drain and rinse under cool running
water before using.
**** Use extreme caution when pureeing hot liquids in a blender. Fill the blender no more than halfway full; carefully hold the lid in place using a towel to protect your hand. Blend multiple batches if necessary, as over-filling is very dangerous.
Make It Ahead: Make the beans up to three days in advance; cool completely and store, tightly covered, in the refrigerator until needed. Or, freeze for up to 3 months. Reheat gently over mediumlow heat; garnish just before serving.
Serves 4*
Exclusive recipes provided by Viking Cooking School.

Print This Page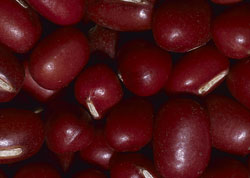 Related Menus
French Quarter Feast

Related Recipe Categories
Main Dishes
Viking Cooking School Recipes
Viking Owner's Exclusives