Ricotta Tart
by
Combine a lemon-scented, slightly sweet and buttery crust with an airy ricotta filling and you've got one delicious dessert. The crust in this Ricotta Tart comes together easily in your Viking food processor and the filling ingredients are simply whisked together in a bowl.
The tart can be made ahead and served chilled, or can be served at room temperature. Serve the tart plain, or dollop each serving with a sweetened berry topping by combining sliced strawberries, blueberries and raspberries with a little sugar.
For the crust:
2 cups all-purpose flour
1/3 cup sugar
Zest of 1 lemon
Pinch salt
1/2 cup (1 stick) unsalted butter, cut into small pieces
1 egg
For the filling:
1 pound whole milk ricotta cheese
1/3 cup sugar
3 eggs, beaten
1 teaspoon vanilla extract
Make the crust: Combine the flour, sugar, lemon zest and salt in the bowl of a food processor fitted with the metal blade. Pulse to combine. Add the butter and pulse until the mixture looks like coarse cornmeal. Add the egg and pulse until the mixture just begins to form a ball. Scrape the dough out of the food processor onto a large piece of plastic wrap. Bring the corners of the plastic wrap into the center and pat into a disc. Refrigerate for 30 minutes.
For the tart:
Preheat oven to 350 degrees. Combine the filling ingredients in a medium bowl and set aside.
Roll out the dough between two pieces of plastic wrap into a 12-inch disc. Remove one piece of the plastic wrap and place the dough in a 10-inch tart pan with a removable bottom. Remove the other piece of plastic wrap and fit dough into crust. Trim the crust and fill with the ricotta mixture. Bake for 45 minutes. Remove from the oven and cool in the pan. Serve immediately or refrigerate.
Makes 8 servings
.

Print This Page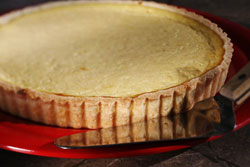 Related Menus
Flavors of Sicily
Related Recipe Categories
Desserts

| | |
| --- | --- |
| | Karin Calloway is a working mom living in Augusta, Ga., with multiple freelance jobs and a ton of dirty dishes. |