Mango Margaritas
No cocktail conveys "Island Paradise" more clearly than a chilled margarita. In this alluring recipe, the classic combination of Tequila, triple sec and lime are blended with fresh mango purée.
2 fresh ripe mangos*
1 cup tequila
1/2 cup Triple Sec
1/2 cup freshly squeezed lime juice (about 5 to 6 limes)
1 tablespoon superfine sugar, or to taste
1 pinch salt
2 cups cracked ice
4 to 6 maraschino cherries, for garnish
Peel and pit mangos; cut into chunks. Place mango chunks, tequila, Triple Sec, lime juice, sugar and salt in a blender; puree until completely smooth. (Note: If necessary, strain through a coarse sieve to remove fibrous pulp.)
Add ice, and blend again until smooth.
Pour mixture into margarita glasses; garnish each with a maraschino cherry, and serve immediately.
*If fresh mangos are unavailable, use an equivalent amount of mangos packed in light syrup found in refrigerated section of most grocery stores.
Optional Garnishing Tip: Moisten the rim of each chilled glass with a lime wedge; gently press each rim into orange or peach colored sanding sugar.
Makes about 1 quart

Print This Page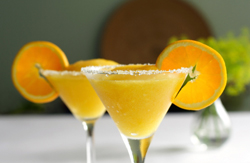 Related Recipe Categories
Beverages
Viking Cooking School Recipes