Chickpea and Spinach Curry
by
I cook several meatless meals for my family every week, and often I serve this flavorful version of Chickpea and Spinach Curry. Using canned chickpeas and bagged spinach makes this an easy preparation and the only real work involved is caramelizing the onions.
I like to peel, slice and caramelize a whole bag of onions and then freeze one-cup portions for later use. The step makes a good curry just a few minutes away.
Spiced Basmati Rice or Basmati Pilaf (both recipes are on this site) are perfect accompaniments to this vegetarian curry.
Chickpea and Spinach Curry
2 tablespoons ghee or vegetable oil
1 large onion, peeled and very thinly sliced
1/2 teaspoon turmeric
1 teaspoon garam masala
1 teaspoon ground coriander
1/2 teaspoon ground cumin
1/4 teaspoon cayenne pepper
Salt and freshly ground black pepper
2 16-ounce cans chickpeas, drained, liquid reserved
Juice of 1 lemon
1 9-ounce bag fresh spinach, washed and spun dry
Chopped fresh cilantro, for garnish
Heat the ghee or oil in a large skillet over medium-high heat. Add the onion and cook until golden brown, 10-15 minutes. Stir in the remaining except the spinach and cook for 10 minutes. Stir in the spinach, cover and cook until spinach is wilted. Taste and add more lemon juice, salt and pepper, if needed. Garnish with the chopped cilantro.
Makes 6 side-dish servings or 3 main-dish servings.

Print This Page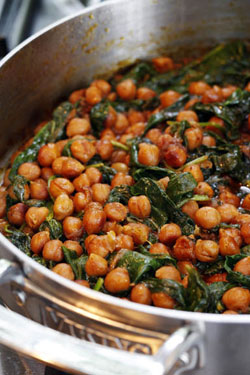 Related Menus
Indian on the Grill
Related Recipe Categories
Vegetables and Sides

| | |
| --- | --- |
| | Karin Calloway is a working mom living in Augusta, Ga., with multiple freelance jobs and a ton of dirty dishes. |