Thai-Style Grilled Eggplant and Tofu Sates
by
Eggplant and tofu are staples of many Asian cuisines and both provide meaty texture without the animal products. And, they both absorb flavors quickly, allowing you to make them taste like almost anything. Here, they're taking on distinctly Thai flavors and will be skewered and grilled.
These sates are the perfect way to make sure your vegetarian guests have a hearty alternative to your meat-based entrees, or they make a delicious side dish at your next Thai-inspired dinner party.
A sweet, spicy, creamy peanut sauce is drizzled over the top of the sates after they're grilled.The sauce is also delicious drizzled over other grilled vegetables or grilled fish and also can be tossed with cold cooked noodles for a delicious cold noodle salad.
Thai-Style Grilled Eggplant and Tofu Sates
For the Sates:
1-2 tablespoons green curry paste, to taste
Zest and juice of 1 lime
2 tablespoons chopped cilantro
2 tablespoons peanut oil, divided
1 tablespoon light brown sugar
1 tablespoon soy sauce
1 teaspoon fish sauce
1 pound firm tofu, drained and pressed
1 large, firm eggplant
12 short wooden skewers, soaked in water
Combine the green curry paste, lime juice, cilantro, 1 tablespoon of the peanut oil, brown sugar, soy sauce and fish sauce together in a small bowl.
Cut the tofu and eggplant (peeled, if desired) into 1-inch pieces and thread alternately on skewers. Lay the skewers on a flat baking sheet or platter and pour the green curry mixture over the top and then rub the mixture into the tofu and eggplant. Refrigerate for 30 minutes while you prepare the sate sauce.
Heat a grill to a medium fire. Brush the sates with the remaining 1 tablespoon of peanut oil and grill until eggplant is soft and golden brown, approximately 3 minutes per side, turning carefully to cook on all sides.
For the Sauce:
2 tablespoons peanut oil
1 shallot, finely chopped
2 garlic cloves, finely chopped
1 large jalapeno or red chile (if available), seeded and chopped
1 teaspoon ground cumin
1 teaspoon ground coriander
1 tablespoon soy sauce
1 teaspoon fish sauce
1-2 tablespoons light brown sugar, to taste
1/3 cup peanut butter, smooth or crunchy, depending on preference
2 tablespoons warm water
1/2 cup coconut milk
Juice of 1 lime
Heat the oil in a small saucepan and add the shallot, garlic, jalapeno and spices. Sauté for about 5 minutes, until vegetables are tender. Mix the peanut butter with the warm water to make a thinner paste and add to the vegetables. Whisk in the coconut milk, bring to a boil and then simmer until the sauce thickens, about 3 minutes. Whisk in the lime juice and add salt to taste.
When ready to serve, place the sate sauce in a serving bowl and drizzle a little of the sauce over each skewer.
Makes 4-6 servings.

Print This Page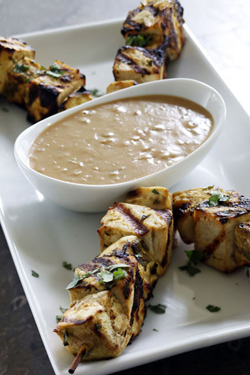 Related Menus
Casual Thai
Related Recipe Categories
Main Dishes

| | |
| --- | --- |
| | Karin Calloway is a working mom living in Augusta, Ga., with multiple freelance jobs and a ton of dirty dishes. |