Hawaiian Barbecue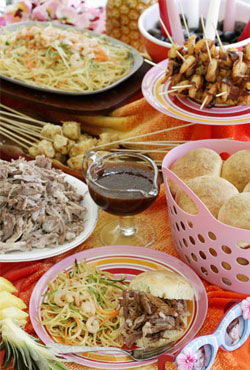 by Karin Calloway
Vacationing on the Hawaiian island of Oahu is paradise to be sure. The perfect weather, beautiful scenery and sunny beaches are beyond imagination. Couple all of this with a plethora of international and local cuisine, and this food writer was in heaven while vacationing there several summers ago.
Being accompanied by our two children, ages eight and 10 at the time, made experiencing the local flavors all the more enjoyable, as we watched them delight and sometimes turn up their noses to new foods. Miso soup and steamed rice for breakfast, bowls of ramen for lunch, dinner from the loco moco (take out restaurant) as well as an introduction to Spam, were all part of their culinary journey.
Enjoying the island with my children inspired me to introduce more children to Hawaiian cuisine, and I have taught several groups of youngsters how to prepare a bevy of Hawaiian dishes during my summer cooking camps.
This month's menu, A Hawaiian Barbecue, features some of the recipes I've shared with my classes, and the menu is perfect for summer entertaining – with the help of the kids. Island Barbecued Shrimp is a tasty bacon-wrapped shrimp appetizer that is a shrimp-lovers dream. Long Noodle Salad combines sweet and salty flavors with the crunch of cucumber and carrots, and a topping of small shrimp.
Kalua Pork Sandwiches are delicious, whether you cook the meat over indirect heat on your Viking Outdoor Grill or in your Viking C-4 Cooker, Outdoor Electric Smoker Oven or Oven. Served on Easy Hawaiian Rolls and drizzled with Pineapple Barbecue Sauce, these recipes take pork barbecue sandwiches in a new direction. The barbecue sauce is used with both the shrimp and the pork sandwiches, saving you a bit of time.
Since the islands have a heavy Asian influence, what better way to end the meal than a dessert of Tropical Tempura Tidbits in which fresh banana and pineapple pieces are fried up in tempura batter, drizzled with honey and sprinkled with sesame seeds and coconut flakes.
Using a beach towel as a table cloth, and decorating the table with colorful candles and wooden bowls and platters is an easy way to bring the theme together. The Shoyu Chicken Wings and the Pina Colada Cheese Cake recipes posted on the Viking site would be a welcome additions to the menu.

Recipes: