by Karin Calloway


Ordering a gourmet spiral-sliced ham for a holiday brunch is as simple as logging onto the internet or picking up the phone. But with almost as little effort (and a lot less expense), you can create a home-coated ham that tastes just like the expensive ham from the gourmet store.

Since I love the sweet-spicy coating on gourmet spiral sliced hams, I toyed with the recipe at home with great results. Here, the ham first is brushed with Dijon mustard which adds flavor, and also helps glue on a delicious spiced sugar coating. Brown sugar is a common ham coating, and on this ham it's flavored with ground cinnamon, cloves, allspice, nutmeg and ginger. If you have a tin of pumpkin pie spice, it will save you measuring out five different ground spices for the coating.

This ham isn't just perfect for Easter, but for any holiday buffet or cocktail party. Small pieces of the ham are delicious on biscuits or yeast rolls, and the sweet, spice-infused coating is a nice counter to a dollop of spicy mustard.


1 7 to 9-pound fully cooked unglazed spiral-sliced ham
1/4 cup Dijon mustard
1 cup brown sugar
2 teaspoons pumpkin pie spice*
Preheat oven to 375 degrees F. Remove ham from wrapping and discard the glaze or seasoning packet (or reserve for another use). Place ham bone-side up on a baking sheet. Brush with the mustard, coating well.

Combine brown sugar and pumpkin pie spice in a bowl and sprinkle over the ham, patting the sugar-spice mixture in well. Bake 30 to 45 minutes, until ham is warm and coating is slightly melted.



Makes about 12 servings.



*Note: 1/2 teaspoon ground cinnamon,1/2 teaspoon ground nutmeg, 1/2 teaspoon ground clove, 1/4 teaspoon ground ginger, 1/4 teaspoon ground allspice can be substituted for the Pumpkin Pie Spice.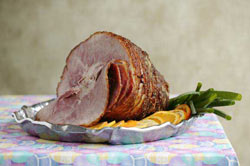 Related Menus


Easter Brunch for Twelve



Related Recipe Categories


Breakfast and Brunch




Related Products


Signs of Spring Dinner for Six
April is a month known for showers, but to me it signals the onset of spring. Crisp spring weather puts me in the mood for entertaining, and this month's menu is one of my favorites.