Easter Brunch for Twelve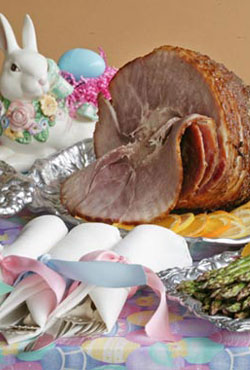 by Karin Calloway
Easter is a sign that spring has arrived, and an Easter brunch is the perfect way to kick off the new season. This Easter Brunch for 12 is a real crowd pleaser and highlights the arrival of California asparagus and Florida strawberries, two of spring's finest offerings.
The menu starts with deviled eggs, but these aren't Grandma's eggs. Scented with a bit of curry powder, sweetened with chutney and made crunchy with the addition of crisp bacon, these deviled eggs are surprisingly complex in flavor.
A store-bought spiral sliced ham gets a honey-Dijon glaze, and then a coating of spiced sugar before heating in the oven. The supermarket ham tastes close to those sold at gourmet ham shops, but costs much less.
Since there are no pineapple rings on this ham, bread pudding-like Pineapple-Cheddar Strata is the perfect accompaniment. And, the season's asparagus shows up on this menu as crisp Honey-Citrus Marinated Asparagus that's garnished with slivered red onion and fresh orange segments.
Dessert is everyone's favorite strawberry shortcake, but this version is super simple to prepare and ever so delicious. Lemon mousse and lemon crème take these shortcakes over-the-top, and no one will guess that convenience products were used to create this divine dessert
Recipes: