Spinach Carrot Juice
Spinach Carrot Juice
8 large fresh cleaned carrots
1 cup of firmly packed fresh spinach leaf
1 fresh cut lemon wedge (optional garnish)
Place a tall glass under your juice sprout and begin feeding your carrot and spinach into the juicer until all of the vegetables have been used. You may want to adjust your proportions to meet your own personal preferences.
Once your juice is done, give the glass a quick stir just to make sure that the juice is evenly mixed.
As an optional garnish, add a lemon slice to your glass. Drinking this juice is best after or during a meal, as the spinach can be quite acidic.
Serving size 1, 112 Calories per serving, 0 grams of fat.
(courtesy of carrotjuice.com)


Print This Page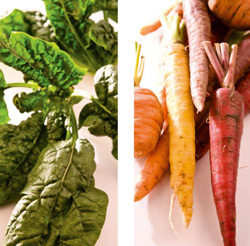 Related Recipe Categories
Beverages